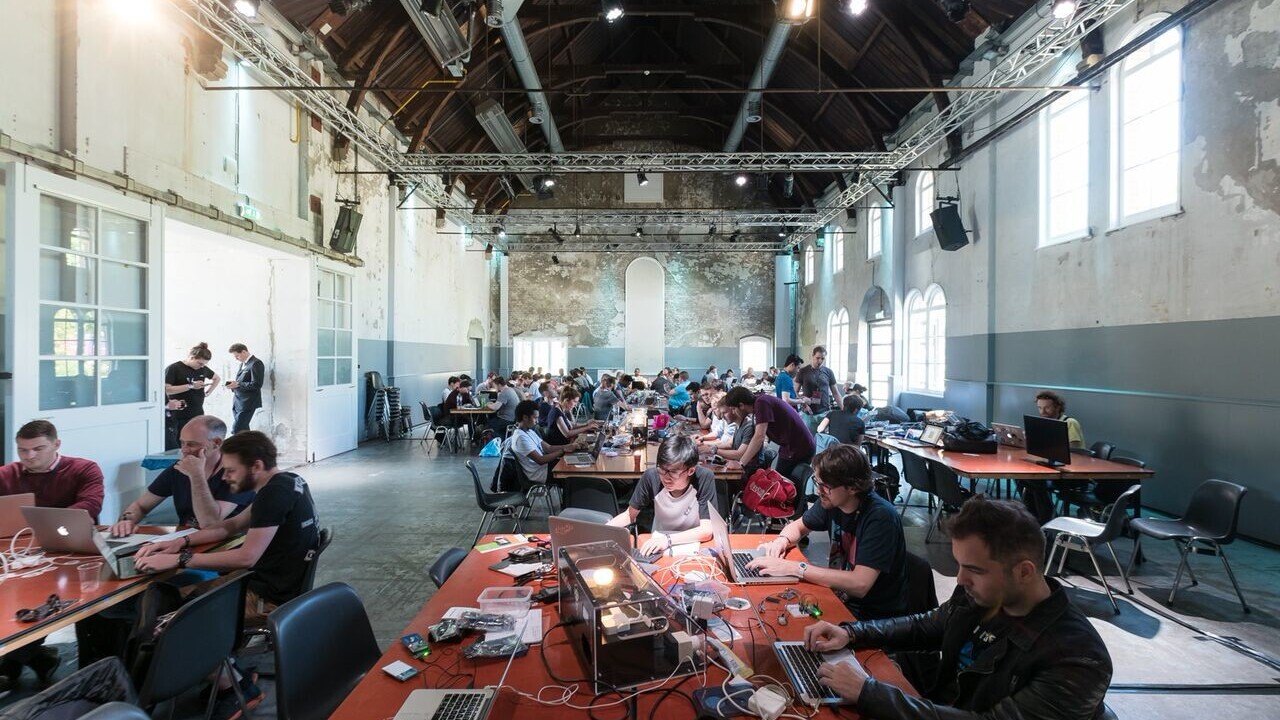 Story by
Content queen
Dog owner, expat, gin lover. Allegedly wise to the ways of PR, digital marketing and social media. Currently waging a war on mediocrity in c Dog owner, expat, gin lover. Allegedly wise to the ways of PR, digital marketing and social media. Currently waging a war on mediocrity in communication and storytelling. Find me on Twitter or email me.
Each year at its annual conference in Amsterdam, TNW hosts an epic hack battle. In a mere 36 hours. This year, we were proud to count our friends at MessageBird as hack battle co-hosts – alongside partner APIs The Things Network, Triggi, Mollie, IBM BlueMix, Toon, and Radix.
After stiff competition consisting of 60-second pitches, 10 finalists were chosen to present their creations to a jury of expert hackers to vie for €2,000 cash prize.
From elderly care to how not to get your shit stolen, here are this year's finalists in no particular order.
Sensors.fun
Some people find sensors intimidating; others find it fascinating. If you're in the fascination camp, then Sensors.fun is for you.
No longer just limited to hardcore techies, this crowdsourced directory makes sensor data open to all users. Don't know the lingo? No problem. Not sure how to use it? They've got you covered. Play around with sensor data on this new social networking space with the data visualization of your choice.
You can even select any sensor in the directory for educational information or just to get your data nerd on.
SafeEvent.space
The ultimate goal of a hackathon is to exploit as many partner APIs as possible. As such, SafeEvent.space did just that – including taking advantage of having a handy RFID tag this year. And the result? An easy and efficient way for venue employees to know what's going on in a room without actually being there.
Safety concerns of public spaces are all around us. With SafeEvent.Space, employees know if venues are overcrowded or if an emergency situation has just occurred. Thanks to The Things Network and MessageBird, even if the system is down, an alert is still sent via SMS.
Besides physical security, privacy was also taken into account during the creation. Pairing and owning the information clients use was built into the system, meaning users do not need log into an account. Client own the sensors and therefore never have to worry about being hacked themselves.
Bikingdrunkis.fun
If you know anything about the Netherlands, you know two things define those that live here – beers and bikes. But if you're not the next Lance Armstrong (who really wants to be…), Beer Proof Bike has your back… or, rather, your beer.
After a few too many brewskies, what you consider cycling straight may not exactly be correct. But with built in seat sensors and IBM Watson, the bike automatically turns on brake lights for your safety (and the safety of those behind you).  The product also uses GPS to help you locate your super unique looking black omafiets.
Gave up after a few blocks? The "screw it I'm walking button" sends you GPS coordinates so you can find your bike the next day.
Home Alone
Any parent can tell you one of their biggest fears is leaving a child behind. And while we all watched Kevin McCallister entertain and protect himself while his parents were away, kids in the real world aren't quite so creative.
Using sensor technology. MessageBird, and IBM BlueMix, parents can alert their kids when it's time to wake up, eat dinner, and any other activity throughout the day… with their own voices. Parents even receive SMS messages to let you know Sally is doing as told.
Parents can now rest assured that when your kid is home, you can still nag the shit out of them.
Rock-on.space
Scenario: You're at a bar, pumped up, and the lights turn on. no, you're not disappointed by that beer-goggle dance partner you've met, but the overall sadness the night has come to an end. Rejoice! Nerdalise Hack Warriors are solving just that.
Sensor boxes leased by local bar and club owners let you know the music, crowd, and overall vibe of local bars. In the mood for 80s? Maybe you're more of a techno fan? Don't worry Goldilocks, you can stop running around looking for a place that's just right.
Did your friends drag you to a lame place? Fingerprint the music you're searching for and send song to your local bar to create your perfect afterparty.
Quickly.press
With an ever-growing elderly population, panic buttons used by these 'greater generations' are limited and old fashioned. With Quickly.press, there's now a smart panic button that sends text and audio messages, as well as GPS location to anyone you want.
Configure your panic button and add family members, government or other services. But the possibilities of configurations are endless. You can set a schedule for when you need family to be available.
Don't wanna be bothered by your dying grandmother while on that big date? Add another family member at in your time slot instead.
Toonbnb.host
Airbnb is so last year. But saving money never goes out of style. With Toonbnb, Airbnb hosts can save money on their energy bills – even when guests get super touchy-feely with the thermostat. The app even shuts off lights and appliances that visitors may have accidentally forgotten about. You can rest assured your precious energy isn't being wasted.
But Toonbnb also rewards Airbnb guests. Reap the rewards of being energy-conscious with a reimbursement in the amount of saved power costs.
Fifi
While animals deaths are relatively rare on airplanes, any pet owner will tell you the risk just isn't worth it. Fifi puts Fido – and your mind – at ease.
The smart device attaches to your pet carrier; gauging movement, temperature, and sound. It even uses GPS to track the location of your kennel should dear old Pepe get misplaced. With The Things Network, you can monitor the Fifi web app on your phone. We all love to travel, but we love our pets even more.
Bike Buster
Here in Amsterdam, people know that getting a bike stolen is almost as common as breathing. On average 311 bikes are either stolen or vandalized every day. Bike Buster hopes to decrease this number.
Using The Things Network, Radix, and Messagebird, you alert the app that you've parked your bike. When you're ready to travel again, just tap the app. If your bike happens to move while you're not on it, the app sends you a SMS and the current GPS location.
Check them out at bikebuster.online
Data Orchestra
Data is all around us and the information you can gleam from it is invaluable. But all the numbers and letters of data just looks like, well, numbers and letters. Current visualization of data is based on a single sense. But what if you could aurally interpret the data?
Each data value is assigned its own instrument and pitch. Reacting to the APIs of data, Data Orchestra has turned this information into beautiful sounds and tones. Sound is crucial to any experience and helps you communicate better. You can now listen to data while interpreting it. Listen to your website visitors, turn your ringtone into your individual phone's data. Why only look at data when you can hear it?
Thank you to all participants, and special shout out to Beer Proof Bike, the grand prize winner of this year's hack battle. As MessageBird Senior Developer Sam Wierema said of the hack champions:
The Beer Proof Bike showed that through training an AI with the right dataset and mixing it with contextual technologies and notification services you can solve common issues with biking in the Netherlands. Improving safety along the way is a big plus.
This post was brought to you by MessageBird.