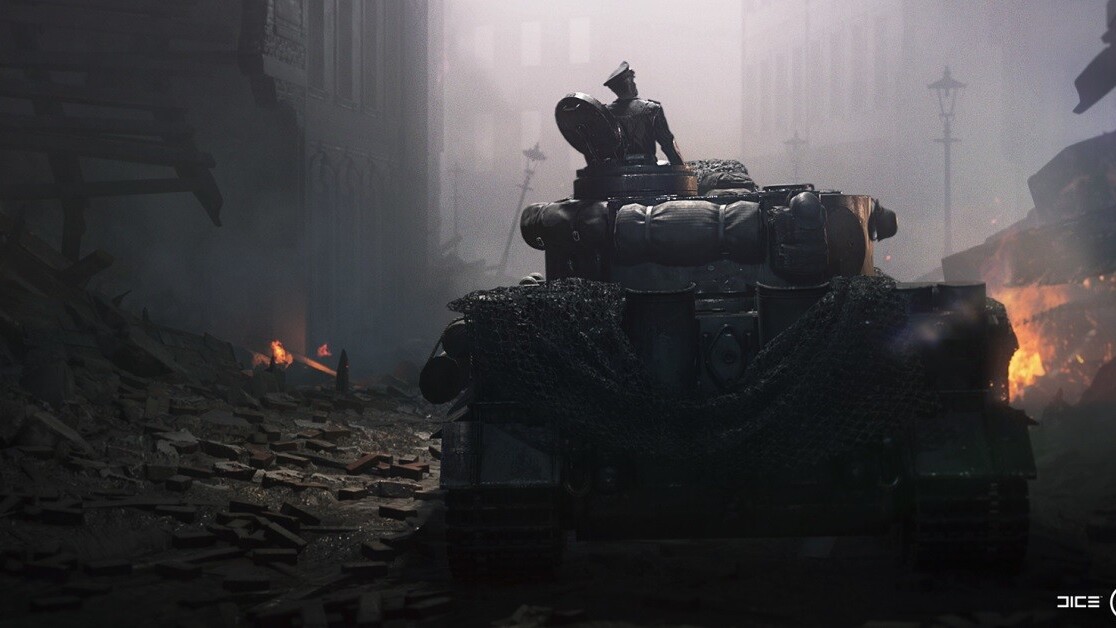 Story by
Internet Culture Writer
Rachel is a writer and former game critic from Central Texas. She enjoys gaming, writing mystery stories, streaming on Twitch, and horseback Rachel is a writer and former game critic from Central Texas. She enjoys gaming, writing mystery stories, streaming on Twitch, and horseback riding. Check her Twitter for curmudgeonly criticisms.
EA is apparently determined to ensure its latest endeavor, WWII-era shooter Battlefield V, is getting as much space as possible to prove it's different from its eternal rival Call of Duty. The company has now put the brakes on BFV's battle royale in favor of the game's single-player story, meaning that (for the time being, anyway) it won't have to compete for the attention of Fortnite emigres with Black Ops 4's Blackout mode.
EA and developer DICE today revealed the schedule for BFV's post-release content, which includes three separate "chapters" containing new story chapters, maps, and, of course, game modes. Surprisingly, the battle royale mode, called "Firestorm," will be launching with the third chapter, "Trial by Fire" in March.
While it's not a surprise to see a battle royale mode in BFV — the genre is the gaming craze du jour, so of course every major publisher is going to do their version — it is a surprise to see it treated almost as an afterthought compared with the amount of emphasis it got in the marketing for Black Ops 4.
Black Ops 4 defied CoD series tradition by going full multiplayer — no story mode to be found anywhere, especially unusual for a Black Ops title. It also introduced battle royale in the form of Blackout, which the developers implied was inspired by similar games on the market.
And one of the first things we heard about BFV was that it was going to feature a battle royale mode. So it was beginning to look like the two games were going to be very similar in their design.
Now, BFV is putting emphasis not on its multiplayer features, but on its story campaign, which features characters from both sides of World War II. While the story was also a major component of Battlefield One, it wasn't given as much emphasis on the expansive multiplayer. So this is a bit of a departure for the series, at least since the days of Bad Company.
Also, BFV was originally going to be released this week, perhaps just a bit too close to BlOps 4 for EA's comfort. But now it's getting its own, competition-free slot in November. Whereas, every year previously, Battlefield and CoD were poised to duke it out for the same audience, now EA is apparently doing its darnedest to differentiate its offering from BlOps 4.
At the very least, it feels like we the gamers are going to get two offerings, and not the CoD/BF symmetry of years past.
Funnily enough, EA also threw a tiny bit of shade at the other games with battle royale in its description:
Firestorm elevates the mode by bringing in the best of what Battlefield is known for. Mix a shrinking playing field with trademark Battlefield elements such as team play, powerful vehicles, and destruction, and you get many unique Battlefield moments coming your way.
If nothing else, I can certainly say I haven't played "battle royale with tanks" before.
BFV's other expansions, "Overture" and "Lightning Strikes", will launch between December and March.
Get the TNW newsletter
Get the most important tech news in your inbox each week.
Also tagged with