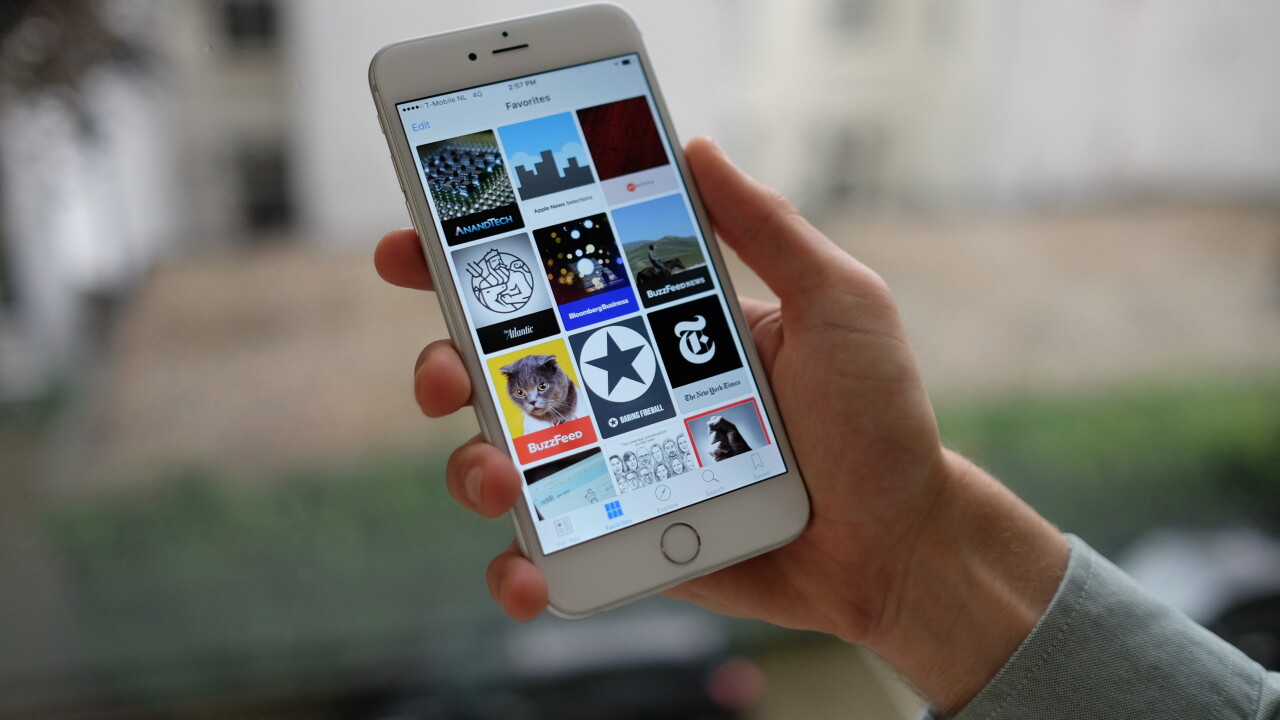 While everyone's panicking about Facebook Instant Articles, I've seen something much more terrifying and exciting: Apple News.
The app, which will be installed on every iPhone that upgrades to iOS 9, is a new centralized home for content.
Publishers can input their content via RSS feeds or, if they're willing to go all-in, add special HTML markup that allows their content to be presented in interesting ways with custom branding in Apple's app.
Apple News is fast, responsive and enjoyable to use. It puts everything I want to read in a single place, without the need to download a third-party app and it loads incredibly fast, thanks to the company's content delivery network.
It also recommends new sites you might enjoy following by learning what you read over time.
The app is broken up into a number of tabs. 'For you' is a selection of stories from the publications you subscribe to, 'Favorites' shows what you're subscribed to, 'Explore' offers suggestions on what to follow and 'Saved' is a simple way to save stories for later reading.
Each site can customize their section of the app, but only in very limited ways so that the experience is consistent. Right now, they can change their logo, the background color of the top bar and define the sections news is broken up into.
Stories in the app are presented in a consistent, clean way, though publishers can modify their font and add other elements.
Apple News is a stripped-back, better alternative to heavy, slow news sites for your phone. You don't need everyone's individual apps anymore, just the one, that offers consistent, easy to read and distraction free news.
That should be terrifying if your business is making money from online publishing.
The app cuts out the cruft, ad trackers and other elements found on many news sites that can slow loading times.
Readers can swipe up to see an article on its original site, or stick to Apple's format. With this model there's few reasons to visit news sites anymore, which is exactly what Facebook's trying to sell too.
It's a bold move on Apple's part to steal more eyeballs from the traditional advertising businesses run by Google and AOL. Apple might as well be yelling that news sites are broken and it's going to fix them for everyone, whether they like it or not.
If Facebook Instant articles were a move to declare war against slow loading websites, Apple News goes a step further.
As ad blocking comes to Safari in iOS 9 for the first time, the app may become a safe haven where ad revenue is still paid to publishers.
For small publishers that simply don't have the resources to build their own native apps, it's a huge opportunity to play in the big leagues and get content in front of more people without having to spend any money.
Those publishers simply don't have the resources to spend time worrying about seconds on every page load, and Apple's offering an interesting way to solve the problem. One major issue, though, is nobody knows what Apple's ad payouts will look like and it'll only allow one ad to be shown on each article, via its iAd network.
Apple News doesn't include a ton of features — which is actually refreshing — but there are some things sorely missing.
Alternatives like the excellent BuzzFeed news app send you tasteful alerts of significant news to keep you interested. News is surfaced in the new Siri page, but doesn't give you a reason to keep checking it.
If the company allowed publications to send limited push notifications with user permission, it could help the app become more widely used and help eliminate the need for their own apps.
Apple News does raise big questions about Apple's role as gatekeeper of the media and how its human curators can remain unbiased. It's had no problem censoring certain apps in the past, so what happens when it's in charge of what you read? We simply don't know yet.
If publishers should be having an "existential crisis" over Facebook Instant articles, Apple News could be even more life-threatening. I think it adds up, though, to be onboard, provided Apple gives publishers ways to stand out.
What remains to be seen is if people will actually use the app.
Technology enthusiasts often like to loudly make a point of relegating Apple's apps to a "junk" folder because they can't uninstall them, but in general, many people stick to the apps that are bundled with their device as long as they do broadly what they need them to do.
Once Apple News is on everyone's home screen, it could change the face of news forever… or it could just end up in another folder on your phone.
As a writer, it should probably scare me. As an avid reader of the news, I love it.
Either way, I'm excited. ¯\_(ツ)_/¯
Get the TNW newsletter
Get the most important tech news in your inbox each week.
Also tagged with