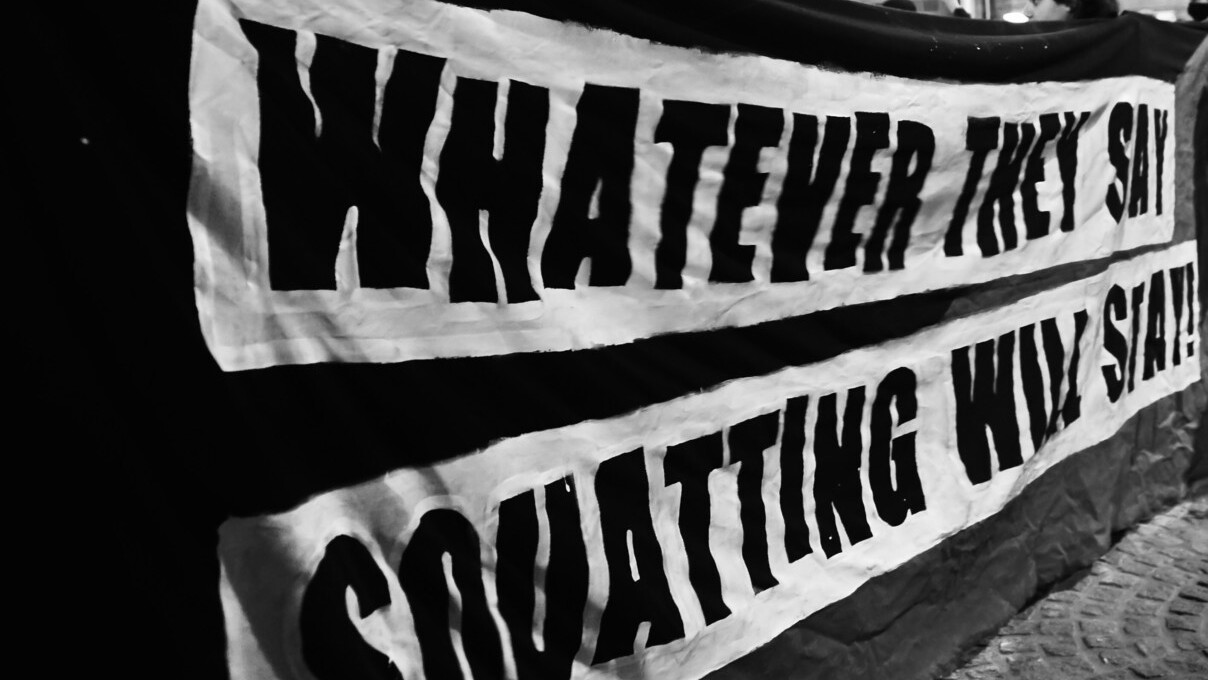 Story by
Former Editor-in-Chief, TNW
In a fitting but somewhat misguided move, anti-tourism activists in Amsterdam have squatted an apartment building currently owned by Booking.com CEO Gillian Tans.
In a letter delivered to neighbors, the squatters state that they've taken over the building on the luxurious Koninginneweg street because they think "it's problematic that a large portion of buildings is being used for tourism, with profit as a purpose, while it's so hard to find affordable living space in Amsterdam."
Squatting as activism used to be quite common in Amsterdam starting from the sixties, usually to protest real estate developers leaving properties unused to sell or develop for more profit later. It was even legal, because squatters forced real estate speculators to actually do something with buildings in a city that was already short on housing.
This lasted up until 2010, when the Dutch government outlawed squatting and started clearing out the many squatted buildings that often served as cultural spaces for the neighboring communities. Since then, over 330 squatted building have been cleared. But apparently, squatting is back now – for a different, but remarkably similar new reason. Instead of vacancy, squatters are protesting tourism.
Over the past few years, more and more inhabitants of the city have been bemoaning the influence of tourism on the city. The tremendous growth in hotel accommodations and the rise of Airbnb have made the city unlivable, according to some. Not only are parts of Amsterdam becoming overcrowded to the point of being dangerous, speculators and home owners are making a killing by renting out their apartments on Airbnb – driving up housing prices and driving out permanent residents.
Amsterdam has taken steps to limit the influence of the platform: Users are allowed to rent out their houses for a maximum of 60 days per year, and require everyone renting their home out through any holiday rental platform to register with the city authorities from October 1. But some fear it's too little, too late – including the squatters in Tans' apartment building.
I visited the apartment building, but was denied entry by one of the squatters. Leaning out of a first story window, she told me they had deliberately chosen a building owned by Tans, based on information they found in public property registers.
She didn't want to elaborate further, and told me to email some questions. As of time of publishing, they did not answer any of my questions about their motives, the legality of what they're doing, and their long-term goal. I'll update this post if they eventually do.
I also reached out to Gillian Tans, and even though she did not directly comment on the situation, a company spokesperson confirmed Gillian does not plan to use the building for short-term rentals, and has, in fact, been quite active in supporting long-term housing projects across Amsterdam.
According to local newspaper Parool, Tans has notified the police, but the municipality won't evict the squatters until Tans' licensing applications for the apartments are fully processed.
As also seen in cities like Barcelona and Venice, the increasing percentage of the world's population that can afford to visit other countries has consequences on the livability of cities. More tourists means more demand for places for them to stay, and if a city gives in to this demand, it automatically makes a choice that disturbs the precarious balance between temporary living space for tourists and permanent living space for residents.
In the heyday of squatting in Amsterdam, squatters made speculative vacancy and housing shortage visible for the rest of city. It was a bottom-up way of protesting perceived misuse of the city's valuable square meters. The ban on squatting did not only take away this form of protest, it also gave many of the squatted properties to developers seeking to turn them into another form of speculation: hotels and expensive housing.
The building these modern day squatters chose also represents a kind of double-edged sword. On the one hand, Booking.com stimulates tourism – including to Amsterdam – by making it more accessible, but on the other hand, they employ thousands of people there as well. Being headquartered in the Dutch capital, they are one of the reasons the city is considered a global tech hub, bringing in more international tech companies and thus more demand for higher quality services in the city.
Ironically, the city needs Booking.com to do well as a company, but not so much by booking hotel stays in Amsterdam.