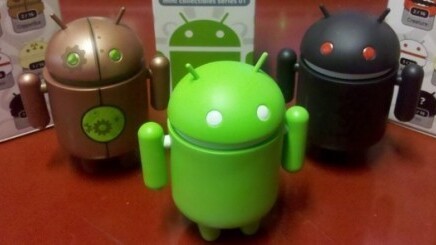 Story by
Paul Sawers was a reporter with The Next Web in various roles from May 2011 to November 2014. Follow Paul on Twitter: @psawers or check h Paul Sawers was a reporter with The Next Web in various roles from May 2011 to November 2014. Follow Paul on Twitter: @psawers or check him out on Google+.
On the same day Google's head of Android Andy Rubin took a rare foray onto Twitter to rebut claims that he's leaving Google whilst simultaneously declaring its latest activation figures, a new report from MarketResearch.com indicates that Android smartphone activations passed 331m in the first quarter of 2012.
Rubin is somewhat of a reclusive figure on Twitter, but when he does make an appearance he often comes armed with at least one golden nugget of information. Back in February during Mobile World Congress (MWC), he revealed 850,000 activations were taking place per day, and today he noted that number had risen to 900,000.
No plans to leave Google.Oh, and just for meme completeness — there are over 900,000 android devices activated each day :-)@Scobleizer

— Andy Rubin (@Arubin) June 10, 2012
Now, MarketResearch.com – a high-profile global market intelligence provider – has announced a new addition to its roster of wireless market reports, entitled Android Devices Database: Activations by Vendor, Handset Model & Region Q1'2012.
While it's widely acknowledged that Android's growth is slowing down, as we recently reported to be the case in the US, the Google-owned operating system still maintained triple figure year-on-year (YoY) growth of more than 126% in the first quarter of 2012. With nearly 85 million Android smartphone shipments, data indicates that it maintains market domination with a global market share of 59%. For the record, the total number of Android handsets activated by the same period last year is thought to be 250 million.
MarketResearch.com's database tracks Android activations by individual device model, vendor and region. Whilst the target audience for this report includes handset manufacturers, application developers and mobile network operators, it will be of interest to the general tech public too, who are looking to keep tabs on the current state of play in the smartphone space.
We recently reported that Apple is readying to wage a smartphone market share war after announcing a second prepaid carrier in the US. Throw into the equation the potential growth of Windows Phone, and many believing Google's Eric Schmidt was wrong to claim that app developers would soon prioritize Android over iOS, then the landscape could be set to change over the next year or so.
That said, it's important not to place too much emphasis on slowing Android growth…everything has a limit. Market saturation has to happen at some point, as we're seeing with Facebook's userbase starting to plateau at just below the one billion mark. Rubin's claims of 900,000 activations a day are impressive, and there's still plenty of markets around the world for Google's operating system to grow into.
Image Credit: Flickr user mindpollution
Get the TNW newsletter
Get the most important tech news in your inbox each week.
Also tagged with