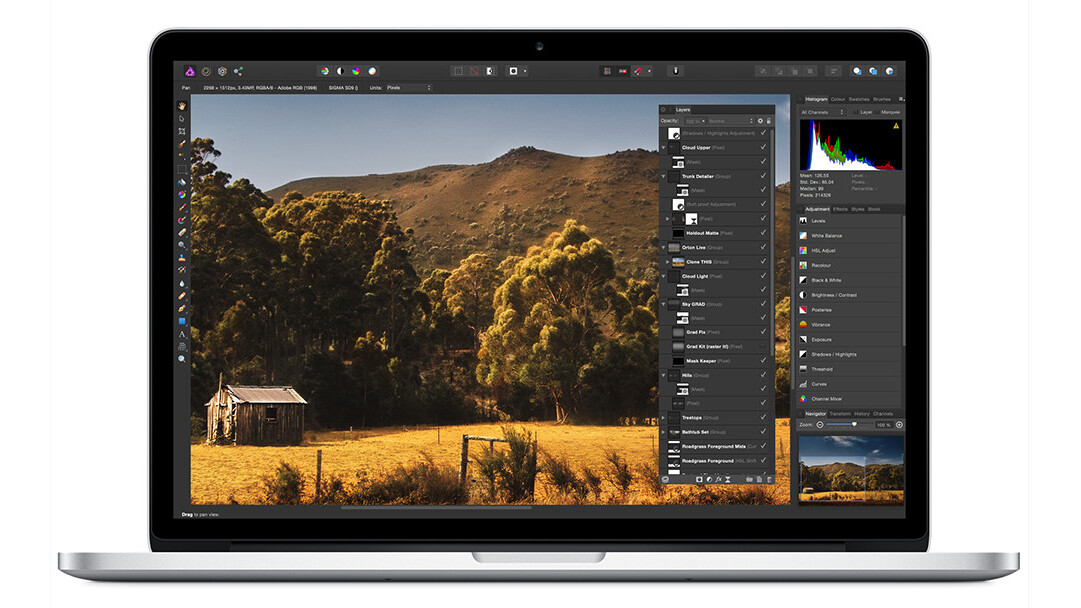 Story by
Reporter
Jackie Dove was in charge of The Next Web's Creativity channel from February 2014 through October 2015. Jackie Dove was in charge of The Next Web's Creativity channel from February 2014 through October 2015.
While the beta version of Affinity Photo — launched in February as an independent challenger to Adobe Photoshop — was extremely smooth, usable and bursting at the seams with high-end features, it was still a beta and needed a bit of polish.
Not anymore. Today, Serif has released the final version in the Mac App Store.
Affinity Photo features numerous high-end capabilities such as Raw processing, PSD import and export, 16-bits per channel editing and ICC color management.
Unlike many image editors catering to a mid-market of photo enthusiasts, this package targets the pros with a full CMYK workflow and open system color palettes, .ASE Adobe swatches and the ability to import Adobe ABR brush files. That's in addition to compatibility with standard formats like PNG, TIFF, JPG, GIF, SVG, EPS and PDF.
The final release has nearly all the tools needed for professional processing, including camera lens and exposure corrections, accurate adjustments, live filter layers, high-end controls for channels and masks, advanced layer handling and built-in frequency separation editing.
The beta has long distinguished itself for its performance, as most operations happened live, in real time with no lagging. So we should expect the same with the final version.
The app offers an advanced brush engine and a large library of painting, drawing and professional Duab brushes. You can also create your own custom brushes and nozzles with control over advanced dynamics as well as pressure, tilt and shortcut button support for Wacom and other graphics tablets.
Affinity Photo takes advantage of Mac OS X technologies such as OpenGL, Grand Central Dispatch and Core Graphics. It operates with the Force Touch trackpad for painting with pressure sensitivity and is optimized for 64-bit and multi-core processors. It supports regular, retina and multi-monitor set ups—including the latest 5k iMac — and offers iCloud Drive support.
Affinity Photo is available exclusively from the Mac App Store for a special launch price of $39.99 until July 23. After that, it reverts to its regular price of $49.99.
Read next: 9 retro-style Photoshop plug-ins impart a vintage film look to your photos