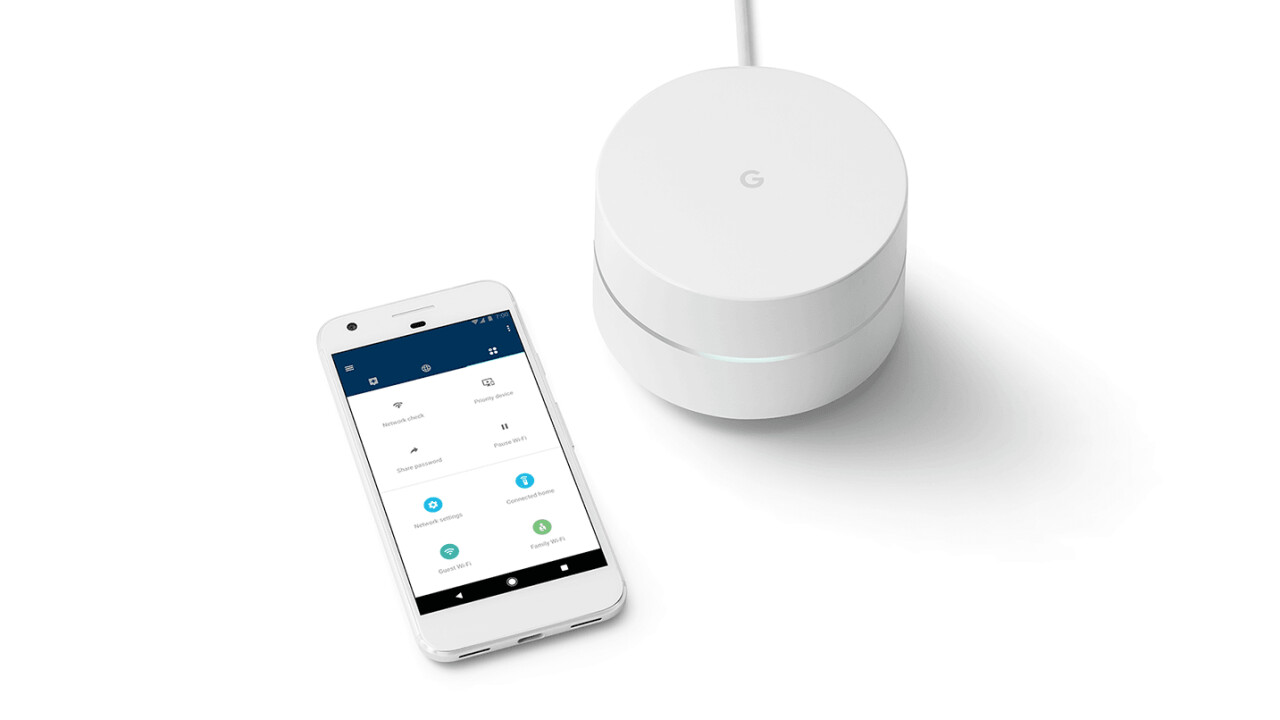 Story by
Former Managing Editor, TNW
Bryan is a freelance journalist. Bryan is a freelance journalist.
As a tech journalist, I should care more about routers. I know enough not to rely on the hunk of junk offered up by most ISPs, but after buying a good router for a couple hundred bucks years back, I just didn't see any reason to upgrade.
And then we moved into a bigger house.
Bigger, as it turns out, isn't always better. Bigger, in this case, meant stretching our Linksys router to its limits, and — sorry Linksys — it just couldn't handle the additional square footage. Littered throughout the house were the most random of dead zones where, try as you might, you just couldn't get a signal.
This was my life, my frustration, my nightmare.
But then Google suggested its mesh system, Google WiFi, could be the answer to my hellscape of a new home. A few days later, a trio of routers arrived at my doorstep.
Cute, right?
Looks
It's worth talking about aesthetics, because these devices are as close to invisible as you can get from a router. My previous router had six antenna, and looked as if it were moments away from gathering my other electronics and launching into orbit. It was obtrusive, ugly, and worst of all: I couldn't hide it.
Google offers much needed neutrality. It's not going to be a focal point of any living room and quietly does its job while sort of blending in to the background. The hockey puck-shaped units are about the size of two Echo Dots stacked on top of each other, and honestly I hardly even notice them.
Another huge perk were the wire connections being hidden underneath each unit. Both power and Ethernet reside in a little recessed area on the underside of the router and have a single opening out the back to easily route a wire out of view.
Because, and I can't state this enough, I really hate wires.
It's the little things.
Connectivity
Since I wasn't going to be relying on it for WiFi, I switched back to my ISPs router, which was decidedly more minimalist than the monstrosity I was previously using from Linksys. It lacked the functionality of my "good" router, but I didn't need it for anything other than something to plug Google WiFi into. It's essentially a modem now.
After plugging the first unit into the wall, and then to the existing router via Ethernet, I opened the smartphone app to complete the setup process. It was a breeze. I'm not exaggerating when I say it took all of 90 seconds. Connecting means opening the app, typing in the numbers on the bottom of the Google WiFi router, and entering an SSID (if you want to rename the connection) and password.
Subsequent units require even less setup. All you have to do is plug them in, and tell the app they exist. It'll seek them out, find them, and blend them together into one giant whole-house connection.
Once Google finds all your routers, it takes a few minutes to configure them. You'll get a notification that they're ready to use, and you're off to the races. Never in my years as an internet user have I experienced a router that was so easy to set up and use, better yet three routers connected to the same network.
But does it work?
Aesthetics and connectivity mean little if the system doesn't work as intended. Luckily, Google WiFi scores high marks. Not only does it work, I think it's the smartest and most approachable way to ensure whole-house coverage.
Mesh networks are legit, ya'll.
For those unfamiliar with the term, it's essentially a group of connected routers that form one network. Each is placed throughout the home, but link together seamlessly without requiring constant manual switching between as you move out of range. Move throughout the house, or even outside, and Google has you covered.
And implementation is flawless. I never experienced a slowdown, and the dead spots are no more.
I did find it surprising that the third router turned out to be overkill. Our home is around 2,800 square feet, and two provided more than adequate coverage. But it's not like we're not going to use the extra one to blanket our back yard too, so we just moved the last one close to the back door.
As great as the hardware is, it's the software that really left an impression. While it lacks some of the hardcore hacking features router enthusiasts love — I would have loved to add a VPN, for example — the simple approach works best for most homes. And Google's app-centric approach makes this about as close to plug-and-play as it gets.
Aside from an easy setup, the app handles all of the heavy lifting for day-to-day management as well. You can run speed tests (on both the mesh network and incoming signal), set up guest networks, and limit your Snapchat-addicted teenager from connecting at specific times. I also liked that I can give the middle finger to the rest of the family and prioritize bandwidth to the device I'm using at the time.
I'm a jerk, I know.
The system, in my opinion, offers the best bet for most households. It's simple, aesthetically pleasing, and just does the job it's supposed to do. In fact, it does the job better than any router (or combination of routers) I've ever tried.
At $124 for a single unit, or $279 for a pack of three, Google WiFi is a no-brainer, especially for people with connectivity issues.
Get the TNW newsletter
Get the most important tech news in your inbox each week.
Also tagged with