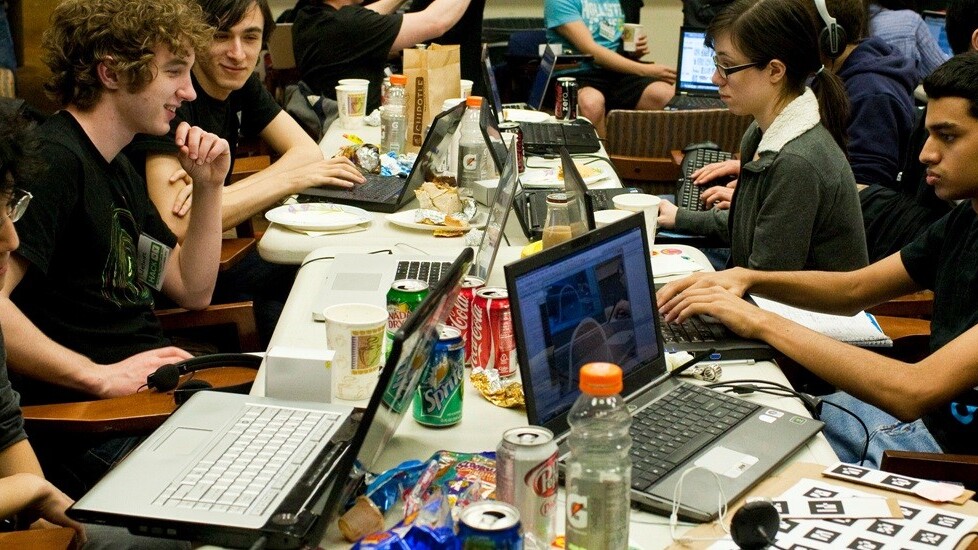 Story by
Scott Gerber is the founder of Young Entrepreneur Council (YEC), an invite-only organization comprised of the world's most successful young Scott Gerber is the founder of Young Entrepreneur Council (YEC), an invite-only organization comprised of the world's most successful young entrepreneurs. YEC members represent nearly every industry, generate billions of dollars in revenue each year and have created tens of thousands of jobs. Learn more at yec.co.
If done correctly, company hackathons can be incredibly productive. If done incorrectly, they can turn into one big snooze fest — or worse, a waste of time, money and junk food. What makes a hackathon work?
To find out, I asked several entrepreneurs from the Young Entrepreneur Council (YEC) to weigh in on the following:
What is one best practice for running a successful company hackathon?
Their best answers are below:
1. Food Trucks
I'm currently in the process of planning a hackathon and have learned many tips. One that stands out is bringing in food trucks for lunch. This gives employees a chance to get some fresh air and take a short break, but it doesn't kill their momentum.
– Darrah Brustein, Finance Whiz Kids | Equitable Payments
2. A Good Cause or Goal
We recently held a 54-hour hackathon where our teams worked together to help a nonprofit with its marketing. It was amazing to see the time, passion and creativity that was brought out when everyone got behind a great cause.
– Torrey Tayenaka, Sparkhouse
3. A Deployment Process
A successful hackathon is one that results in working projects. The sticking point for many teams is getting their projects deployed and accessible for people to poke at.
Whether it's arranging for server space in advance or asking a payment processor to sponsor the hackathon with free accounts, making infrastructure easy for teams is key. If they can focus on innovation rather than infrastructure, then you'll see many more successful teams.
– Thursday Bram, Hyper Modern Consulting
4. No Limits
It is logical to want a company hackathon to be about company products and applications, but this kind of limitation completely defeats the purpose of a hackathon. Freedom should be given to explore any idea imaginable, whether it relates to the business or not.
Uninhibited creativity not only leads to more innovative thinking during the hackathon, but it can spread to other areas of the business as well.
– James Simpson, GoldFire Studios
5. Checkpoints
Hackathons are a major part of our culture. One tip that always works is to schedule food and surprises for specific, pre-announced times all night. This keeps people hacking through to each milestone.
– Robert J. Moore, RJMetrics
6. Planning
Whenever we've run a successful hackathon, we've allowed groups to plan ahead of time. This allows the groups to hit the ground running when the hackathon starts. Time isn't wasted talking about what it could or should be, but rather it allows for a quicker, more efficient turnaround on ideas.
Ultimately, hackathons are judged by what is accomplished. People get discouraged when real products or prototypes don't come out of them. Planning ahead gives teams the best chance to deliver a product of some kind at the end of the allotted time.
– Andrew Howlett, Rain
7. A Diverse Perspective
The most successful company hackathons take place when there's a diverse perspective from different company functions and teams. Although it may be easy to cater to just developers and engineers, it's important to take an interdisciplinary approach.
Blend the hackathon teams with tech and business talent so that the hacks created are more likely to speak to all aspects of the business. Getting many stakeholders involved in company hackathons makes it more likely that the innovations created will break out of the silos upon implementation.
– Doreen Bloch, Poshly Inc.
8. Swag
Make sure everyone who shows up gets some swag. Free T-shirts, coffee mugs or stickers help make those involved feel their participation was worthwhile. It also serves as a long-term team building exercise. Everyone can have a laugh or reminisce when folks wear their hackathon T-shirts to work three months after the event.
– Adam Lieb, Duxter
Top image credit: Flickr/Elena Olivo. Copyright: NYU Photo Bureau
Get the TNW newsletter
Get the most important tech news in your inbox each week.