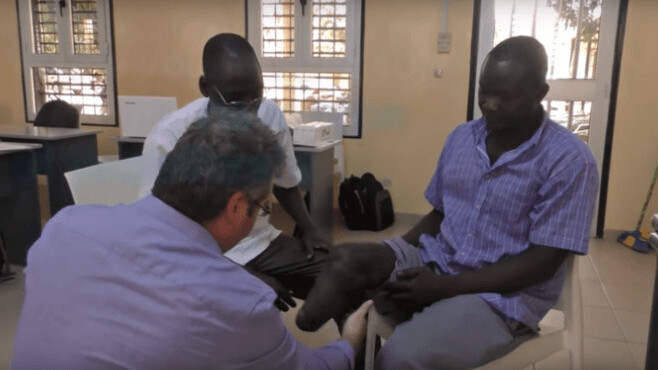 3D printing technology is being used to help provide prosthetic and orthopedic support for patients in need. The 3D printing technology being trialed in Madagascar and Togo by Humanity & Inclusion (HI), formerly Handicap International, is part of Impact 3D, a program that began in November 2017 and is funded by the Belgian Development Agency.
The orthotics, artificial limbs, are created using 3D scanners and 3D printers.
3D printing prosthetic limbs.
"It saves us a lot of time. As need be, scans can be sent directly by telephone to the specialist in charge of making the digital orthotic on a 3D printer," said Simon Miriel, Manager at Impact 3D.
In many low-income and middle-income countries, like Madagascar and Togo, only up to 15% of the population requires assistive devices such as artificial limbs and have access to them. Furthermore, in remote or dangerous areas, specialized health professionals can be scarce and materials expensive. As a result, patients receive poorly made or unadjusted artificial limbs which make their lives uncomfortable by causing skin sores, pressure wounds, and muscle fatigue, among others.
"We are excited to move on to phase two of this research. These trials will involve more patients in different locations in order to thoroughly test our methods. 3D printing is unlikely to become the only way of providing prosthetics but we think it could be a great option in certain circumstances," said Isabelle Urseau, Head of Rehabilitation at Humanity & Inclusion.
Currently, HI is running this new 3D printing technology trial in Togo, Madagascar, and Syria. It involves a small, lightweight 3D scanner which creates a digital mold of the amputated limb. The mold can then be adapted according to the patients' needs using the computer-modeling software before being sent to a 3D printer. The printer creates thousands of layers of thermoplastic to produce a bespoke socket that corresponds perfectly to the shape of the patient's amputated limb.
It is hoped that should the trials prove successful, more low and middle-income countries will benefit from this 3D printing solution which also reduces costs and the time it takes to provide artificial limbs for patients.
This post was originally published by iAfrikan. Check out their excellent coverage and follow them down here:
Get the TNW newsletter
Get the most important tech news in your inbox each week.