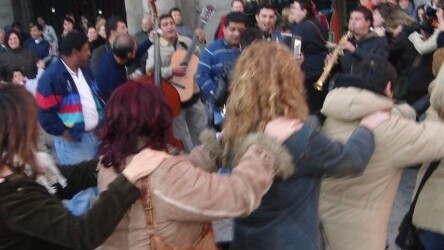 Story by
Lesotho-born and raised, Nancy Messieh, The Next Web's Middle East Editor, is an Egyptian writer and photographer based in Cairo, Egypt. Fol Lesotho-born and raised, Nancy Messieh, The Next Web's Middle East Editor, is an Egyptian writer and photographer based in Cairo, Egypt. Follow her on Twitter, her site or Google+ or get in touch at [email protected]
With an amazingly active community on Google+, there's still a significant number of ghost-town profiles, where countless people have received the coveted invite, taken one confused look, and promptly turned around never to be seen again. So how do you sift through all the empty profiles, to find the really interesting people worth following?
There's actually quite a few ways you can find interesting people to circle on Google+, based on location, type of posts, occupation and more. Whether it's using third party sites, or checking out what's going on right there on Google+, you'd be surprised at just how easy it is to find people posting interesting and valuable information on Google+.
Circle Sundays
Brian Rose came up with the idea of bring Twitter's Follow Fridays to Google+. Of course, to set them apart from their Twitter counterparts, they were called Circle Sundays. If you want to search for people's recommendations, go to Google Plus Search and perform a search.
What's great about Circle Sundays on Google+ is that users really have a great opportunity to go into detail explaining why they're making the recommendation. Follow Fridays on Twitter quickly degenerated into lists of names, with no reasons given as to why the recommendations were being made, and maybe it was to be expected with the 140 character limit. On Google+, there's simply no excuse. Christina Trapolino is a great example of how Circle Sundays should be done.
Recommended Users
Recommended Users is a handpicked list of users worth circling on Google+. The site really strives to provide a list of only the best users worth following on the social network. What makes it really useful is the fact that the lists are divided into over 20 categories, so if you want to know which photographers, bloggers, podcasters, journalists, web developers and angel investors to follow on Google+, check out the site.

FindPeopleonPlus
If you want to find people who are in your neck of the woods, from your Alma Mater, or from a specific industry, FindPeopleOnPlus is a great source for finding interesting people on Google+.
FindPeopleOnPlus also has a great section of users waiting to be discovered, based on specific categories. The site has special Canada, India and UK-specific versions. The site also gives you a convenient way to see which of your Twitter friends and followers are already on Google+.
Google+ Counter
If you want to find interesting lists of people worth circling, or even curate a list of your own, Google+ Counter is the place to go. What's cool about how Google+ Counter works is that you can create a list and encourage people to add themselves to the list – so the site has the potential to become the ultimate directory of Google+ users, used in much the same way as WeFollow has been used for Twitter. Some of the featured lists include Type Designers, Android Developers, as well as a list of The Next Web team on Google+.
Women of Google+
Much has been said about the incredibly unbalanced ratio of men to women on Google+, but there's no denying how many fascinating and interesting women there are on Google+ that are worth following. One of the first places to go to find them is the blog, Women of Google+, which includes in-depth profiles and interviews with bloggers, podcasters, writers and more.
See what people of influence in your field are saying
Google+ power users are a great source of recommendations on who to follow, often within specific fields. Robert Scoble has a list of bloggers and journalists which he keeps entirely up-to-date based on users' actual activity.
Thomas Hawk often introduces photographers when they join Google+, showcasing their work to his 46,000+ followers. Keeping an eye on what your favourite Google+ users are saying, and sharing, is a great way to find interesting people to circle+.
CircleCount
CircleCount is a good source not only for lists of Google+ users, it's one of the first sites which has put that information in a visual format. If you want to see Google+'s top 10, 100 or 1,000 users on a map, CircleCount is the place to go.
GPlus Rank
Most of the Top 10 lists on Google+ users are based on little else other than follower count, regardless of whether or not they've posted a single public update.
GPlus Rank is a great place to go for useful Top 10 lists, and more. The site uses a voting system where anyone can vote users up into the lists. Voting for Google+ users can be based on location, occupation, and a huge variety of categories including sexy, humorous and attractive. Where it really becomes useful is that it gives you the ability to vote for users based on who shares the best information about various categories.
Group.as
Group.as is another site where you can keep up with categorized lists, as well as create your own lists by logging in with your Google+ account. Front page lists include Photographers, Celebrities and Entrepreneurs. The site has a huge variety of lists, as well as some pretty niche categories, so you're bound to find a list or two that's of interest to you.
Go to the source
Google+'s active community is pretty impressive, so why not ask them for their advice? You can create lists with any one of the services listed above, and ask people to add themselves to the list if they fit the description.
Keep an eye on who's commenting on and interacting with your friends. Check out other people's circles, whether it's your friends or interesting people you've already circled, following their lead is often the easiest way to find interesting people you would have otherwise missed.
Do you have any recommendations on how to find interesting users on Google+? Let us know about them in the comments below.
Get the TNW newsletter
Get the most important tech news in your inbox each week.
Also tagged with