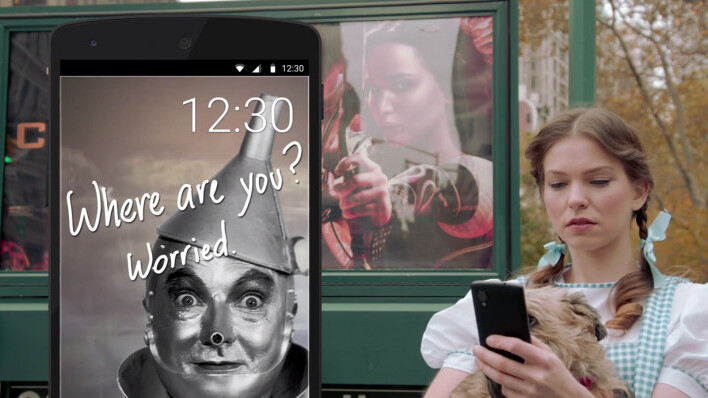 Story by
Reporter
Jackie Dove was in charge of The Next Web's Creativity channel from February 2014 through October 2015. Jackie Dove was in charge of The Next Web's Creativity channel from February 2014 through October 2015.
February has been a busy month for launching and updating apps for the Android platform. The following list shows a huge variety of genres from location based maps to productivity, imaging and even an app that cares about your psychological well-being.
Citymaps
Citymaps, the social mapping platform, has launched on Android, joining the free app on iOS. With Citymaps, you can create lists of your favorite places and build personal maps from them. You can create a city walk with friends, for example, pinpointing your favorite historical spots on a map. The app also can uncover new locations you might like based on past interests, community data and recommendations from friends.
The big change with the latest update, apart from launching on Android, is the introduction of collaborative maps, which allow you to build and share collections with friends.
Alt-C
Alt-C is admittedly a one-trick pony, but it has a utilitarian purpose: It lets you copy text and links back and forth between your Android phone and Windows PC. It's also a manual process, rather than copying all links between devices.
It's easy to use: Just  install the
desktop
and Android apps and link your two devices using the code displayed on your device's screen. There's no need to create an account — a major advantage. To copy text from your computer to your phone, highlight and press your hot key combo – alt+c by default. The copied text then appears in the app's list on your Android device.
Lumific
Lumific, a mobile photo management app that has been in beta for the better part of a year, has now been released in final form on the Google Play Store. Available only on Android for now, the free Lumific is integrated with both Dropbox and the Snapfish photo printing service.
When Lumific finds duplicates or similar photos, it places a numbered badge on the best, most sharable one. Tapping on the badge expands to show all of the duplicates. In gathering duplicates and similars, the app also classifies them, allowing you to search according to different criteria. Lumific can also auto generate GIFs out of similar photos, signified by a tiny icon on the thumbnail.
ScreenPop
With ScreenPop, you can send image-based messages straight to a recipient's lock screen, letting them view photos without unlocking their phone. This is useful for those extremely popular people who get so many messages that the moment gets lost. Although the image takes up most of the screen's real estate, the top bar is visible so you will still see important information such as push notification icons, network and battery status.
ScreenPop does not monitor app usage for potentially embarrassing content, so it's up to the user's discretion to view images in private if something promises to be, shall we say, NSFW.
IFTTT
If This, Then That, affectionately known as  IFTTT, is an automation algorithm that connects two or more Internet tools . IFTTT maintains integrations to many consumer-based popular gadgets from Fitbit, HP printers to Hue lightbulbs and the Smappee home energy monitor.
To give users more creative control and ease of use, the company launched Do, a new suite of apps that simplify recipe setups. The Do apps – Do Button, Do Camera, Do Note – let users drag and drop tools they want to connect and to easily customize recipes.
➤ IFTTT [Android/Do Button/Do Camera/Do Note]
TalkSpace
Talkspace, the talk therapy app that lets you consult with a licensed therapist via text and instant message, now has a new Couples Therapy feature to help partners and married couples resolve their differences remotely. With Couples Therapy, participants can join a chat room with a therapist without having to actually show up at a clinic together or be in the same room. Maybe that's already a big help.
Priced at $149 a month for unlimited chatting, Talkspace Couples Therapy may work out to be an affordable alternative to in-person chat.
Line
Mobile messaging service Line's new app allows business and personal brands to connect with fans, clients and customers — kind of like a branded Facebook page in an instant messaging format.
Dubbed [email protected], the app is free on Android (and iOS) and lets account holders send batch messages to followers who are on Line's messaging app, chat one-on-one with friends, and share posts on their timeline and home pages. They also get access to stats like daily added friends, block rates and Timeline post responses.
In addition to the app's features, the desktop version lets you create pages with rich content, coupons, contests, polls and more.
➤ [email protected] [iOS/Android]
iAnnotate
iAnnotate for Android allows users to read, mark up and share PDF documents, but the most notable update to this useful app is the updated interface: the app has been streamlined for ease of use. Users can also mark files using the iAnnotate pen, highlighter, typewriter, shapes, pop-up note, underline and strikeout tools. Any annotations made in the app are integrated into the PDF and can be viewed or edited with external readers like Adobe Acrobat or OS X Preview.
Also, the price has changed: The new app no longer costs $9.99 but is available for free.
HERE for Android
Nokia's HERE maps has been recently updated for both Android and Windows phones. The new version of HERE for Android removes the Beta tag and launches a bunch of new improvements. There's 3D venue maps for places like shopping malls and airports. You can even rotate them to pinpoint where you came in or switch between floors.
Among other improvements are improved routing, which now offers the fastest routes for all three modes of travel and you can swipe to see alternative routes. The Maps feature has enhanced interactivity and traffic information now includes up-to-the-minute details like road closures.
➤ HERE for Android [Google Play]
oneminute
Oneminute offers a unique take on sharing images and experiences. Every day oneminute gives you a single opportunity to take a photo, but you must take it within 60 seconds of the prompt. But, you won't know when that minute will be and if you miss it you, you'll have to wait until the next day.
After the minute has passed, the photos are combined into a snapshot of what that day looked like in that moment. It's amazing and awesome to see a 60-second interval boiled down to a bunch of spontaneous, anonymous photos taken around the globe.
Also tagged with