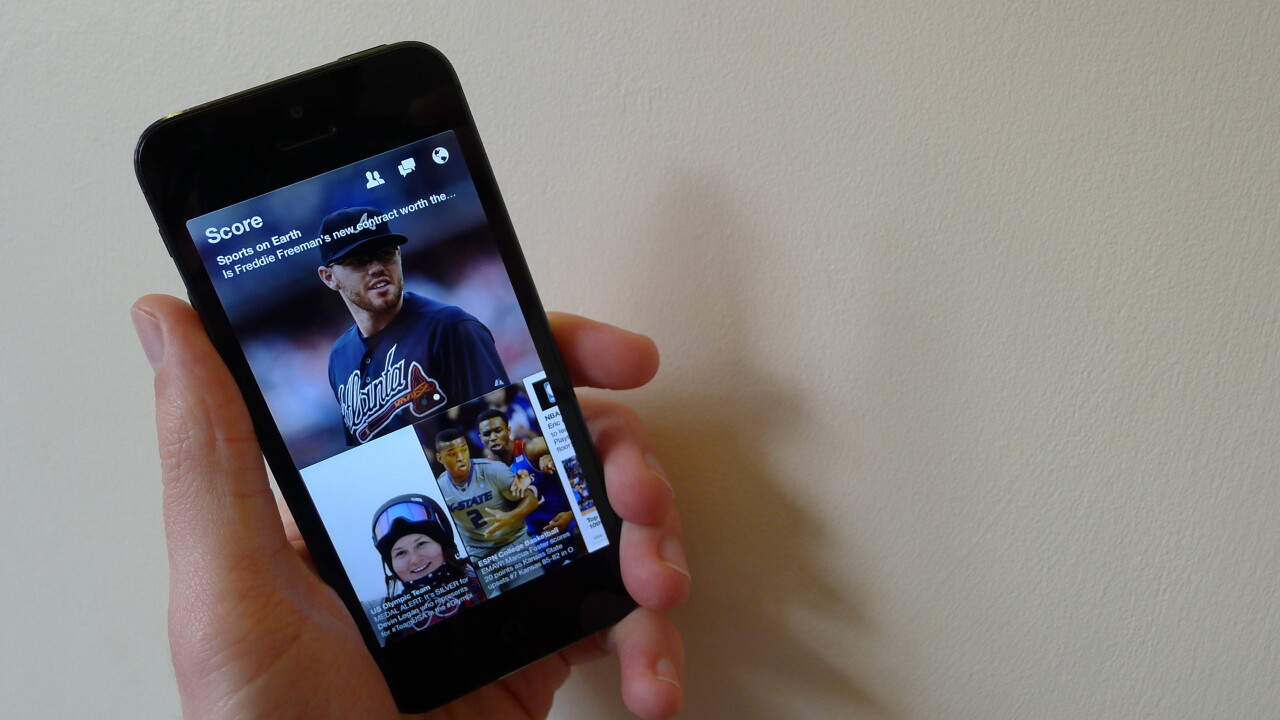 Story by
Nick Summers is a technology journalist for The Next Web. He writes on all sorts of topics, although he has a passion for gadgets, apps and Nick Summers is a technology journalist for The Next Web. He writes on all sorts of topics, although he has a passion for gadgets, apps and video games in particular. You can reach him on Twitter, circle him on Google+ and connect with him on LinkedIn.
When Facebook launched Paper for the iPhone last week, I was skeptical. The company's social network is a huge, lumbering machine with a vast array of moving parts; to create such a simple redesign, surely Facebook had to compromise and leave out some of its core features?
To test this theory, I've been using the new Paper app exclusively on my iPhone for the last 10 days. The original mobile app is buried in a folder somewhere and I've pledged to only use Paper for all of my Facebook interactions, whether that's sharing a quick status update or digging through my News Feed.
The result? Paper has transformed how I use Facebook and I have no intention of opening the original iPhone app again. It has some shortcomings, but I'm willing to forgive Facebook given this is only version one. What I didn't expect, however, is for Paper to change my perception of what Facebook is about and how I can get the most out of it.
Back to Basics
Paper has a radical new interface and not surprisingly, I needed a little time to get used to it. That's not because the 'flow' of the app isn't clear or intuitive, but because I've been using Facebook with its recognisable, vertical News Feed for almost seven years. That muscle memory is difficult to forget.
Almost immediately, I noticed that Paper was changing how I interacted with Facebook. I spent more time looking at each status update, linked article or photo individually. Although you can quickly swipe across stories from the top-level view of your News Feed, I almost always expand the first card and examine each of them in turn.
This uncluttered, distraction-free environment felt immensely refreshing. Paper is a slower, more thoughtful reading experience that counters the speed and reactive nature of Twitter. That's not to say one is better than the other, but it's had a profound impact on my experience with Facebook.
For one, I've been discovering more content. Even though it's the same News Feed that would be shown in the original Facebook app, the full-screen card layout means that I'm more likely to stop and consider what someone has shared. I open more links, browse more photos and generally consume more.
For another, I've been engaging more with what people are sharing. Paper encourages me to spend more time with each story and as a result, I'm more likely to have something to say about it. Over the last 10 days, I've written more comments, 'Liked' and shared more posts than I would normally with the original Facebook app. Naturally, people are responding to those comments and adding their own feedback to content that I've shared in their News Feed.
In short, Paper is slowly bringing me back into the fold.
Before, I felt increasingly detached from Facebook. I would often sign in, address any notifications and then quickly scroll down my News Feed without stopping on a single story. Within five minutes I had already closed the app or my browser tab with a sense of disappointment. I would often mutter to myself: "Maybe I've just outgrown this social network."
But that's changing now. When I close Paper, I rarely feel like Facebook has wasted my time. Sometimes there just aren't many stories (or new ones, at least) to look at in my News Feed, but I'm not going to blame Facebook for my occasionally inactive network.
Yet even when my News Feed is a desolate wasteland, Paper has something else to keep me occupied. More news.
Read all about it
When I first created a Facebook account, I was about to enroll at University. In the years that followed, the site became a hub for almost every part of my student life – the parties, the last-minute dissertation surveys, the unloved student radio station – Facebook was perfect for sharing all of that.
As I've grown older though, so too has my network on Facebook. The parties have been replaced by posts about weddings, children and job promotions, which are less frequent and exciting than the crazy all-nighters from my student days. This is creating a noticeable hole in my News Feed.
Facebook seems to understand this though and is combating it with a suite of new feeds in Paper, populated by content from some of its favorite publishers. They're split into 20 categories such as Headlines, Score, Tech, Planet and Cute, each with its own set of story cards that are updated automatically.
Although this isn't what Facebook was originally intended for, I've found it to be a useful and complimentary part of Paper. More than ever before, I'm sharing links to interesting articles and webpages that I've stumbled across online.
So rather than finding this content through Twitter or news reader apps such as Circa and Flipboard, Facebook has given me a single place to discover, read and share everything that's new on the Web. While I'm not using Paper to monitor breaking news, it's become an effective way to discover stories that I may have missed, or remind myself about articles I read earlier in the day.
All of this has impacted my relationship with Facebook. Paper is sourcing new content for me and not surprisingly, I'm sharing some of it with my friends and family. The knock-on effect is that more people are commenting on these posts, which is giving me yet another reason to come back to Facebook.
The shift
Over the last 10 days, Paper has changed how I look at Facebook. Mark Zuckerberg once said he wanted to build "the best personalized newspaper in the world" and at the time, I imagine some people scoffed at the idea.
Yet that's exactly what I'm doing more of on Facebook these days; sharing, discovering and talking about content from the Web. It's not as open or fast-paced as Twitter, but that doesn't mean the discussions I'm having on the social network are any less important or meaningful.
Facebook is still a great place to share photos, plan events and connect with friends and family. I'll still be doing that too, although Paper has proven that a drop in this type of content can be replaced with news articles for some users.
The bottom-line is that I have no intention of returning to the original Facebook app on my iPhone. Paper feels like a better experience and while it's certainly not perfect, it has me interested and excited about Facebook again. For someone who was an infrequent user 10 days ago, that's pretty impressive.
Read Next: How to download Facebook Paper outside of the US / FiftyThree applies for 'Paper' trademark after Facebook launches new iPhone app with the same name
Get the TNW newsletter
Get the most important tech news in your inbox each week.
Also tagged with