Urban Outfitters hawks the AOL shirt no one asked for
Want to remind everyone that America Online was a thing in the 90s? Urban Outfitters thinks you do.
UO is selling an (admittedly comfy-looking) t-shirt emblazoned with the familiar AOL triangle logo for $45. That's almost $20 more than you'd pay for AOL's most expensive subscription service, and the latter comes with a Verizon discount.
Not that the price is a big surprise – you go to Urban Outfitters when you want to disappoint Macklemore.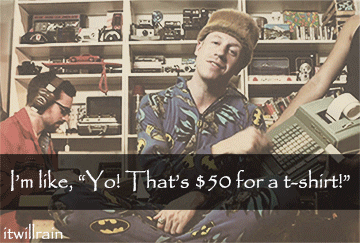 As nostalgia goes, the AOL logo has more memories tied to it than most; the familiar "triangle swirl" design was around for 15 years. But even diehard AOL fans (shout-out to all three of you!) might shy away from the huge price tag.
The shirt is designed by Altru Apparel, who also sell Napster and Myspace shirts through UO. Other notable apparel on Altru's website includes this $69 "Coffee" sweatshirt, and $38 baseball cap emblazoned with the logo for Life magazine.
Altru is apparently really proud of this shirt, because its made an AOL spoof commercial. Here it is, if you need to be reminded what the AOL dial-up sounded like:
If you want to buy something AOL-related and have $50 to spare, try AOL stock instead. At time of writing, shares were going for a comparable price, and they're more likely to resell at a profit.
This Urban Outfitters AOL T-shirt will cost you more than an actual monthly service charge on The Verge
Read next: Roborace's driverless racecars hauled ass in Buenos Aires this weekend