Samsung teases public event in Times Square for the Galaxy S IV launch
Samsung continues to hint at the reveal of its new flagship Android smartphone, the Galaxy S IV, after it posted an image from its Samsung Mobile Twitter account revealing a new public event taking place in Times Square on March 14.
The poster reads "be ready 4 the next Galaxy", mimicking the original teaser image used to promote the launch earlier this week.
The event will take place at 7pm and coincide with the official launch, which will take place at another event in New York City.
Samsung has confirmed that it will be launching the Samsung Galaxy S IV, the fourth iteration of Samsung's popular Android smartphone, on that date. Furthermore the bottom of the image reveals that anyone who attends the public event in Times Square will be able to watch a livestream of the launch and also "experience" the device.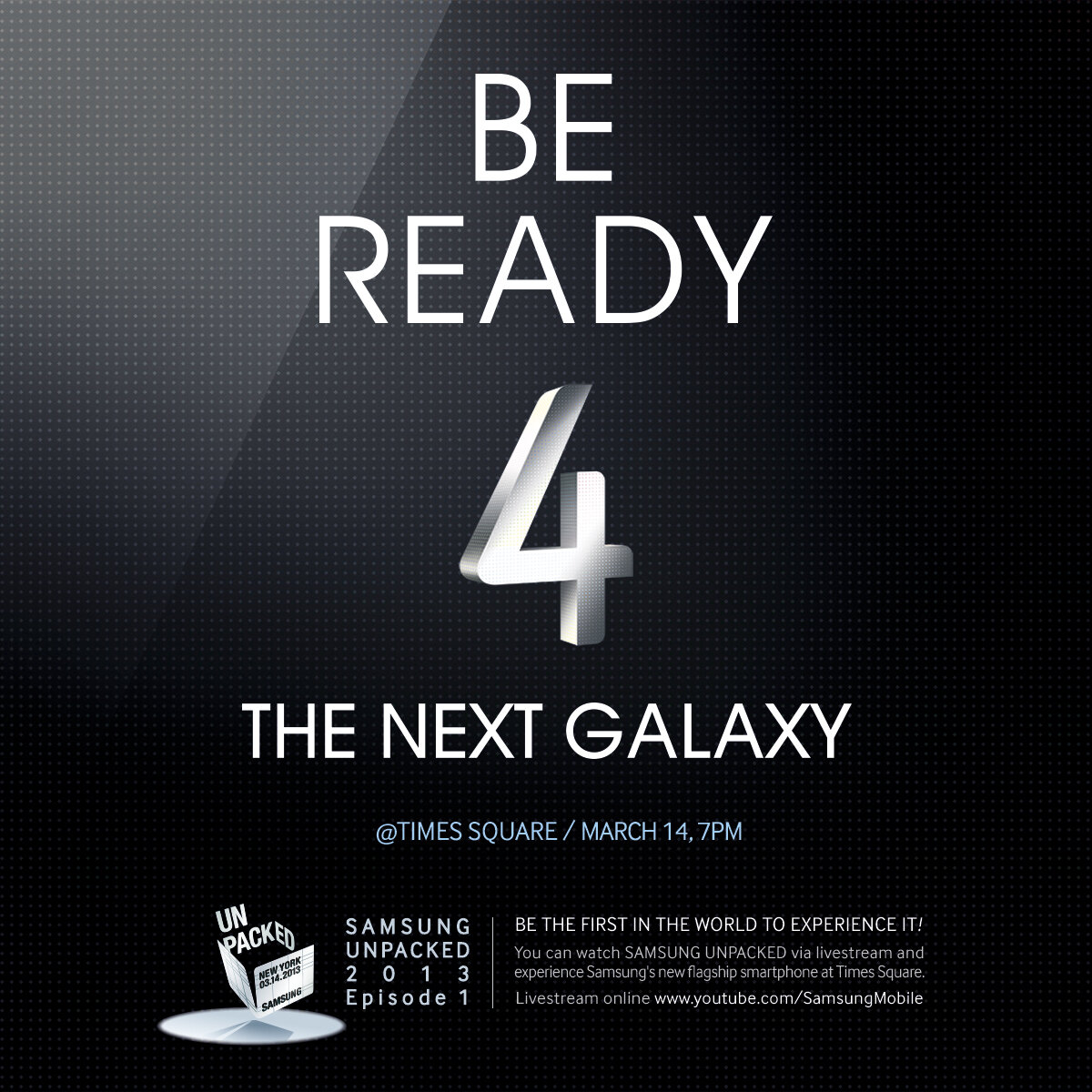 Samsung says that attendees will be "the first in the world to experience it" hinting that the smartphone will be at least viewable, or perhaps available as demo units immediately afterwards.
Times Square is a suitable location for a launch party given the Galaxy line's long-standing appeal with Western audiences. Samsung is looking to have a bigger impact with the Galaxy S IV in the United States this time around, and by holding two events –  one for the public and press – it's almost guaranteed to generate some excitement.
The launch follows the reveal of the HTC One, one of Samsung's closest rivals in the Android marketplace. The device has a 4.7-inch display at 468 PPI, as well as a quad-core Qualcomm APQ8064 Snapdragon processor, 2GB RAM and 32GB of internal storage.
So from a specs perspective, Samsung has a lot to compete with.
Read next: Airbnb's Neighborhoods program expands with the addition 93 local guides in 4 new cities worldwide