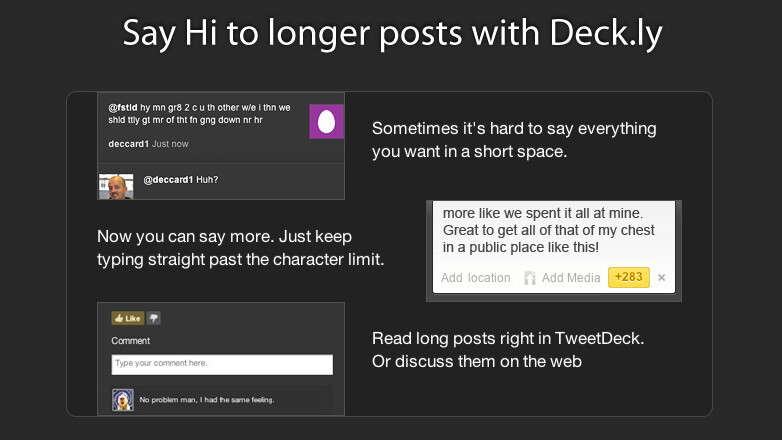 Story by
Courtney Boyd Myers is the founder of audience.io, a transatlantic company designed to help New York and London based technology startups gr Courtney Boyd Myers is the founder of audience.io, a transatlantic company designed to help New York and London based technology startups grow internationally. Previously, she was the Features Editor and East Coast Editor of TNW covering New York City startups and digital innovation. She loves magnets + reading on a Kindle. You can follow her on Facebook, Twitter @CBM and Google +.
Deck.ly is Tweetdeck's latest feature that allows users to post Tweets longer than 140 characters. We covered its first mention last week, but it is now officially here.
Iain Dodsworth, founder and CEO of Tweetdeck told us via email:
"What we're doing here first and foremost is delivering on the most requested feature we've ever had. Our users want to post messages over 140 characters and this is one feature we thought we should build ourselves. I don't see how this would draw anyone away from Twitter, it value adds Twitter – something we've been doing since day one."
Deck.ly allow users to send any messages in any length, including embedded images, videos etc. The technology creates a special web page (example here) for Deck.ly updates, which contain the full message. A truncated version of the message, plus a link to this web page, is the posted to Twitter. TweetDeck users will be able to read the messages in full, directly in their TweetDeck apps.
In their recent blog post, Richard Barley, Tweetdeck's community manager, says they've launched updates to their Desktop, Chrome and Android apps which support posting for Deck.ly long updates, as well as viewing those sent by other TweetDeck users. Tweetdeck itself received an update today, and is now supporting 11 languages.
If you're wondering why Deck.ly isn't available on the iPhone and iPad, it's because Tweetdeck is starting from scratch, building brand new iPad and iPhone apps – both are coming soon. Also coming soon will be a dedicated Deck.ly homepage with a built-in search option so users can search through the tweets that are stored in Tweetdeck's servers. Dodsworth imagines this homepage could evolve into its own blogging platform. It still needs Twitter's established community to have a voice, but it could turn out to be a much more robust platform than Twitter itself.
We speculated in our earlier article that Deck.ly could be a righteous blogging platform in its own right. Deck.ly is not too dissimilar to Posterous or any other blogging platform connected to Twitter for that matter. Deck.ly will be a source of positive growth for Tweetdeck whether it goes in the blog direction or maintains itself as an extension of the Twitter platform, and it's certainly going to gain serious momentum amongst the more verbose Twitterers out there… you know who you are.
See a video of how it works here:
Get the TNW newsletter
Get the most important tech news in your inbox each week.