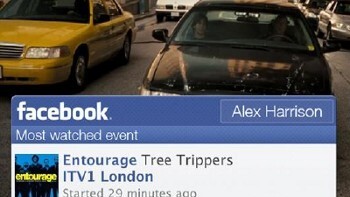 Story by
Founder
Martin SFP Bryant is the founder of UK startup newsletter PreSeed Now and technology and media consultancy Big Revolution. He was previously Martin SFP Bryant is the founder of UK startup newsletter PreSeed Now and technology and media consultancy Big Revolution. He was previously Editor-in-Chief at TNW.
Much has been made of Twitter and Facebook's potential as online advertisers, but have you ever considered that they may one day play an important part in TV advertising too? According to a new report, that's a distinct possibility.
The Social TV report from media analysts Futurescape features interviews from figures across the media and technology industries and puts forward an argument that as our TVs make the transition to being online devices, social media will provide both a huge opportunity, and a big challenge to broadcast networks.
The "Social EPG"
Online TV services like Google TV, Project Canvas and Yahoo Widgets will allow social media to "enter the TV value chain", offering social recommendations for viewing directly on your TV screen. As Robin Sloan of Twitter's media partnership team notes in an interview for the report:
"At some point in the past, people used a printed-out TV guide to decide what to watch and find it on their TVs. Now, most people use the EPG built into their cable boxes. But increasingly, people are also using Twitter. Think of it as a kind of live, living, breathing social EPG. You see which shows your friends are talking about, and you see which shows the whole world is talking about – all in real-time. Increasingly, we think that kind of behavior is going to drive ratings in a significant way."
Imagine seeing viewing recommendations from your Facebook friends displayed directly on your TV screen, or having the option to watch the currently most-discussed TV show on Twitter, simply by selecting it from its on-screen hashtag. These are very real possibilities.
Social ads come to your TV
By integrating with our TV viewing, Twitter and Facebook have a real opportunity to grab a significant slice of the reported $180bn global TV ad spend.
The report notes that "Connected TVs will enable Facebook to launch socially targeted advertising on the TV set itself. Twitter's forthcoming (sic) Promoted Tweets have similar potential".
Social networks have a huge advantage over traditional TV advertisers. They're sitting on top of a goldmine of realtime, social information that allows them to display just the right ad at just the right time for it to have maximum impact on the audience. Everyone's talking about weddings after two soap characters decide to get engaged? That could be just the right time to appeal to viewers' emotional side with romantically themed ads, for example.
Of course, that data could be a real asset for traditional advertisers too. The report notes that Twitter and Facebook "have the ability to provide social graph data to the TV industry, either free or in paid-for services."
Facebook and Twitter aren't the only ones with a chance to make a big splash in the Internet-conected TV world. Google is making a big play in the sector via its Google TV service as well as offering TV advertising itself.
Many other players will undoubtedly emerge, but Futurescape's report shows how the mass appeal of social media services like Twitter and Facebook gives them an advantage. They'll be all over every TV platform out there, from Google TV to Project Canvas and beyond. That ubiquity, combined with the valuable social data they hold puts social services like Twitter and Facebook in a very strong position indeed.
Get the TNW newsletter
Get the most important tech news in your inbox each week.
Also tagged with