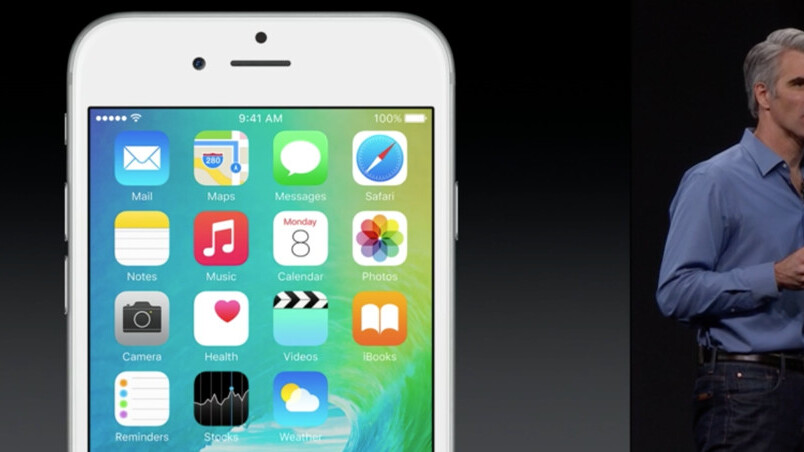 Story by
Reporter
Jackie Dove was in charge of The Next Web's Creativity channel from February 2014 through October 2015. Jackie Dove was in charge of The Next Web's Creativity channel from February 2014 through October 2015.
Apple's Worldwide Developer Conference — in a massive 2.5 hour keynote — spent a fair amount of time focusing on iOS 9, the new version of its mobile operating system for its smartphone and tablet. The software will be officially released this fall.
Only 12 percent of Android users are on Lollipop, Craig Federighi, Apple's senior vice president of software engineering, told the assembled crowd at San Francisco's Moscone West. Apple's new iOS promises to do much better with new Siri and Proactive features, multitasking for the iPad and more.
Built-in apps got a boost with improvements and updates to Maps and Notes and an all-new News app wrapped in a mobile OS that's backward compatible and carrying a smaller footprint.
Siri has become more accurate over the last year, said Federighi — and now is 40 percent faster at responding to what you are asking, while maintaining your privacy.
Siri has also been overhauled for iOS 9 with contextual reminders and new ways to search photos and videos. Its Proactive feature offers relevant information and suggests actions — such as apps to launch or people to contact — based on your past usage, and pings you about appointments, offering traffic conditions to your destination.
It can learn your listening habits at certain times and places to give you the music you want to hear at the time when you're generally listening.
Search queries promise more relevant results from more categories.New search functions let you find content inside apps — just tap and it brings you to the exact page you're looking for. And it's all private because information starts on-device, and stays there, under your control. 
In fact, all of the proactive intelligence data is anonymous — not linked to your Apple ID and not shared with third parties and not uploaded to the cloud.  
iPad multitasking
Apple is making iOS 9 work better on the iPad with the addition of multitasking and picture-in-picture features — the long-awaited ability to use two apps onscreen simultaneously is coming. The most powerful version of split view will be available only on the iPad Air 2, however.
Here's how it works: With a swipe, a Slide Over feature lets you work side-by-side with a second app without leaving the first. Picture-in-Picture lets you continue a FaceTime call or video while using other apps. These new multitasking features are supported by built-in Apple apps, and APIs make it easy for third-party developers to add support into their apps.
A new Shortcut Bar displays contextual actions for the app you are working in, plus new multi-touch gestures are designed to make it easier to work with text.
Speaking of text, the new San Francisco font is also present in iOS.
New sizes for uploads will be welcome to those with smaller phone capacities — 1.3GB for iOS 9 instead of 4.6GB for iOS 8.
The new OS will also include battery optimization and a low-power mode. An Install Later feature can perform updates when you're not using your device. The new OS also strengthens passcodes and improves two-factor authentication by building it into iOS.
New features of the redesigned Notes app include the ability to sketch with your finger, create checklists to track to-dos or snap a photo in a note. You can save items to notes directly from other apps, and keep them in sync across devices with iCloud.
The News app combines the immersive style of print magazines with interactivity. News also learns your interests and suggests relevant, sharable content. The app delivers articles from publishers like Condé Nast and the New York Times.
Apple Pay will soon support Discover, rewards programs from Walgreens and Kohl's Department Stores as well as participating store credit and debit cards. A new Wallet app gives users control of those items. Apple Pay will also be available to users in the UK starting next month.
Swift 2, the development platform, offers new features and improved performance for creating faster apps. The Swift compiler and standard library will be made available as open source later this year.
The iOS 9 beta software and SDK are available now for iOS Developer Program members at developer.apple.com, while a public beta will be available in July at beta.apple.com.
The new mobile OS will be out this fall as a free software update for iPhone 4s and later, iPod touch 5th generation, iPad 2 and later, iPad mini and later.
Read Next: Everything Apple announced at WWDC 2015 in one handy list
Get the TNW newsletter
Get the most important tech news in your inbox each week.
Also tagged with