Why Russian Startups Are Conquering Product Hunt
Many entrepreneurs want to succeed on Product Hunt. Though it's aimed at the US, international entrepreneurs have been launching products there too. Those from Russia are among the most successful.

Product Hunt is one of the fastest developing resources on entrepreneurship, technology and startups. According to data by SimilarWeb, the project's main audience is concentrated in North America. Interestingly, India comes in second place, considerably ahead of the UK.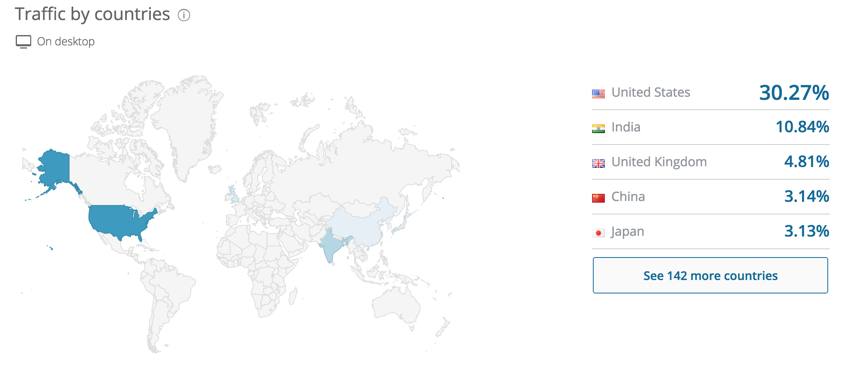 Product Hunt founder Ryan Hoover said that in October 2015, the number of users exceeded 400,000. From June 2014 to June 2015, PH's audience grew eightfold. Considering the pace of growth, we can assume that, as of September 2016, the number of registered users may have exceeded 1 million.
What Product Hunt Users Like
We analyzed Product Hunt posts over the last 6 months and, by studying leading topics (tags), we singled out the most popular subjects:
Development (dev), creating chatbots, specialized tools, UX and UI — 27,000–37,000 subscribers

MacOS and iOS programs — 10,000–20,000 subscribers

Marketing —  28,000 subscribers

Analytics — 20,000 subscribers

Productivity tools  —  39,000 subscribers

Lifehacks — 33,000 subscribers
According to Product Hunt data (visualization on Yvoschaap), projects that get 1,000–1,500 votes are considered successful. If they get 1,500-3,000 votes, the project is outstanding.
From Russia With Love
Product Hunt doesn't publish information on the countries of origin of projects and their creators. So we pulled some data about products originating Russia: although lacking exact data, we can say that Russian developers have published at least 100 projects on PH. And did it successfully.
An average number of votes on Product Hunt is 357. We didn't include Prisma app's results, as it stands out from the rest too much.
49% of products gained 100–500 votes. That's a good result that may even get you into the weekly newsletter (or even the monthly one)

13% of products got 500–1000 votes. A bright success on Product Hunt

And 9% have over 1,000 votes, making sure they're in all top charts of Product Hunt.
So, 75% of Russian projects that we know of are more successful than an average project on Product Hunt.
Russian projects are among the most popular products in the resource's history. In order to become a Product Hunt sensation, a project needs to get 3,000 upvotes. Slack and Tesla Model 3 accomplished it. Russia's Prisma is currently #8 in the all-time ranking with 3,354 votes — right after Tesla.
Here is a table with some other popular projects by Russian founders: 
Why are Russian developers so successful on Product Hunt? Let Russian makers speak for themselves.
Party Like a Russian
The teams of some Russian projects shared their views about the efficiency of this promotion service and told about specific things that helped them succeed on this platform. We studied the public reviews on Russian projects popular on Product Hunt.
We also studied the public reviews of new releases at Product Hunt. Not all of the project we've studied became real "stars" with 1000+ upvotes, but results are still very good. Here is what the Russian developers tell:
Tilda Publishing — website constructor / 1479 upvotes
Statistics
In three days after the launch got 5001 new visits

536 users signed up directly through Product Hunt

906 users signed up through other sources
We can see the positive results of the publication because we achieved our goal: we got a users flow from a new market (and it was a free traffic) and really positive feedback.
Paste – сlipboard history manager for Mac / 712 upvotes
When we got hunted nobody informed us. When we found Paste at ProductHunt it has already been there for three weeks.
RealtimeBoard — a co-working platform / 706 upvotes
Statistics:
First day usually brings the most of overall traffic (we got almost 10 thousand visitors within 24 hours), and then you will see a gradual decrease.

The number of visitors doubled in a short time (the number or Twitter mentions got 2,5 times more).

The number of sign-ups doubled.
If you don't have any users you will definitely feel a significant increase. […] The traffic will be decreasing gradually, but if you manage to get to the top list in your category then ProductHunt will bring you some constant traffic. For example, RealtimeBoard is still getting around 30-50 people a day.
Mailburn — mail app for iPhone / 671 upvotes
By the moment when we managed to launch it in March we have already had a detailed strategy. We were preparing for a few weeks: for example, we gathered people who would give us the first votes so that we don't have to stay with a couple of votes for hours. Then because of a 'snowball effect' we got a few hundred votes and a few thousand installations.

The preparation for the launch took us about two weeks or about 30 hours. We had to write all the texts and instructions, discuss everything with our friends and find a hunting specialist. You shouldn't neglect this process because preparing a decent launch takes more than a couple of day. Your offer really has to be clear.
As you can see most of Russian product developers tend to prepare well for a Product Hunt publication. We analyzed their experience and came up with some advice that will help you get listed like a Russian.
Certain Types of Products Should Use Product Hunt

The audience prefers business and productivity tools. If your project doesn't fall into these categories, you are unlikely to get much traction.
The product should suit English-speaking markets, including the United States. American users are the vast majority on Product Hunt, so make sure they understand everything.
Russians feel the trend and create high-quality English-language versions of their products that fall into the most wanted categories.
No Beta Versions
Product Hunt accepts only completed projects, not beta versions. The audience also prefers them that way. Hacker News (the Show HN section) and Betalist are the best places to test your concept and get first feedback.
Prepare for Publication
A common mistake of founders is not being ready for the Product Hunt launch. It's important to understand that even a random user can share a link to a product. Here's a common scenario: a startup publishes a preview on Show Hacker News, and one of the readers makes a post on PH.

Product creators end up not working with Product Hunt during the first crucial hours and days after the release. And don't forget, it's important to respond to comments fast!
Ideally, you should plan a publication together with a top "hunter" who has many subscribers and create a special landing page with a greeting for PH users. Develop a special app for them if you can for maximum effect.
This post is part of our contributor series. It is written and published independently of TNW.
Read next: Snap CI is Shutting Down! What Next?
Pssst, hey you!
Do you want to get the sassiest daily tech newsletter every day, in your inbox, for FREE? Of course you do: sign up for Big Spam here.