Toughen It Up: These Workplace Gadgets Will Make You a Tech Badass
We all nurture a secret desire to be a superhero of some type. You can aspire to be Bruce Lee in your alternate ego or, like me, you can wish to become the ultimate har-fan-maula of tech, someone with a gadget to handle the trickiest situations. While there are some real worthless innovations from start-ups getting absurd attention and even more absurd amount of investment, I will tell you of gadgets which are easy to afford and have practical use in an office or productivity environment. These devices are chosen in no order, and if I have promoted a brand, it's just because the product is made only by the brand.
Without a longer foreword, let's know what you should buy next time you find a little stash somewhere.
TAILS Live Pen Drive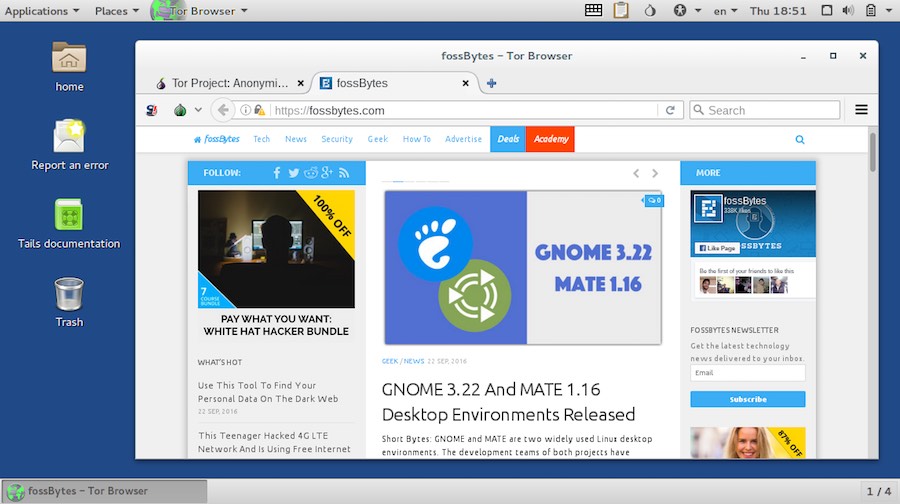 Productivity comes to a standstill if a PC decides not to boot, sulking from different reasons. You can wait till the IT guy arrives, checks it with various DVDs, scratches his head about how to recover the data and then sighs to inform you that you need a "full format".
Even worse, if you are out there and working, and your laptop decides not to boot. We can make a great excuse, almost irrefutable, and call it a day. OR, you can carry a TAILS Live USB in your pocket. Plug the USB drive, ask the computer to boot from it (which means, going into the BIOS but that's easy) and you are there, the laptop is up and running.
All your files are accessible, all your hardware instantly recognized (in other words, no need to install drivers) and most of your programs working. Is that black magic?
Maybe something close. TAILS is an operating system, made mainly for and by the hackers so you know you are getting the best your computer can get. Originally created for trace-less usage of any computer, this is very handy if you want to take a backup of your hard disk before you submit the laptop for troubleshooting.
This is also great if you want to use a laptop or computer in the office urgently, but you don't know the password. Plug the DVD, and you are ready to take over.
PS. – With great power comes great responsibilities. Please don't misuse it.
Industrial Rugged Laptop
We spoke of laptop use outside the office but frankly, not every laptop is capable of delivering performance in demanding industrial environment. Your fancy, sleek Microsoft Surface Pro can be anything but sturdy. While it's great to carry that for a boardroom meeting, you wouldn't want to take it with you when you are working at 4 meter high poles or where dust, shock, water spill or even drops are frequent. Introducing, Panasonic Toughbook CF-20, a laptop which is made for those conditions.
It has so much protection that it can withstand, let me quote, shock, vibration, rain, dust, sand, altitude, freezing conditions, high variation in temperature, humidity, explosive atmosphere, etc. If that does not make it a tough rugged laptop, perhaps nothing will.
It's a 2-in-1 convertible which means you can use it as a tablet as well. Backed by 8 GB RAM, Intel Core m5 vPro processor, and 128 GB SSD, the performance is comparable is with your fancy Surface Pro. It has built-in 4G connection modem, multiple USB 3.0 ports and it can connect to so many legacy devices along with smart card reader, bar-code reader, mag-stripe reader and whatnot! Hey, you can work with it even under rain and touch the tablet screen with gloved fingers, and it will still obey you. Totally badass!
LithiumCard Pro Charger
There are two curses for the modern generation, low data balance, and low battery. While Jio is temporary taking care of the first issue, LithiumCard Pro charger can take care of the second issue. And it's fast. How fast? It's 3X faster than your dear Apple charger (sorry to burst your bubbles, iBoys, and iGirls). By the time your Apple charger will charge your device to 33%, LithiumCard Pro will complete charging. It is compatible with almost every device which needs charging, including Samsung, Sony, LG, Google, Apple Watch, iPhone, iPad or other tablets, Bluetooth headphones, Bluetooth speakers and more. If those aren't reason enough, know that this nifty little pocket Hercules can charge two devices at once.
Who wants to buy only a charger? Don't. Do you know there are Sync ports as well which allows you to backup your pictures and videos (and other 'important' documents, in case you have those)? They also offer a NanoStick for free when you buy this.
OTG Pen Drives
This is becoming pretty commonplace, and if you are not having one, probably you are not in sync with the trend.  This is basically a pen drive with one end having USB port and the other port having a mini-USB port. Thus, it can be plugged into a PC or laptop, and it can be plugged into a phone as well. This bridges an annoying gap between PC and smartphone sync; gone are the days when you needed to connect the phone using the proper cable and then wait for detection and then slowly transfer data. When you need to transfer data between PC and any smartphone, it's super fast and super easy now. These devices are plug-n-play so, you are good to go right after you purchased. A very handy tool for people who use a smartphone for professional purposes and then report or update the system using a PC.
One condition is that your phone must have OTG (On The Go) support. In fact, this also helps in combating the low space problem of modern smartphones, you can access all the files on the USB. So, keep few movies handy when you need to kill a few hours.
All these devices are rather small, and you can carry in your pocket, except the Panasonic Toughbook CF-20, of course. Be the tech badass of your office, make your female colleagues see you as their rescuer and be a hero.
This post is part of our contributor series. It is written and published independently of TNW.
Read next: Follow[the]Seed says, "The Next Unicorn Could Be Jayride."