How was my first Gary Vaynerchuk event?
What's the first thing you look at when you want to go to a business conference? Are you interested in the topics of the keynotes? Are you interested in the speakers who will be on stage? Or are you more interested in the breaks when you can network with other participants?
To be honest with you, I'm more in the second club – I'm interested in the speakers who will be on stage. So every time when I'm getting ready to go to a marketing, social media or branding conference I do my homework and stalk the speakers. I look up on the internet and see who is he or she, what they do for a living, are they practicing what they preach, are they using social media to engage with people? Just like a normal marketer who does his research before work.
But there are some speakers that I don't need to do any research on because I already follow them on social media, understand their opinions and also consume their content. For example, if I want to go to a SEO conference and I know that Rand Fishkin will be there as a speaker, I already know who Rand is. He is well known in the marketing industry as the guy who built the biggest SEO SaaS company and who also created the Whiteboard Friday Video series which I watch conscientiously.
But this article is about the conference which gave me the chance of meeting the guy from whom I've learned a lot about social media, digital marketing and content marketing.
I wanna meet the real Gary Vee
One of his best keynotes I've ever watched was from TNW 2016 when Gary talked about what he knows best – entrepreneurship, social media and marketing.
And that was the moment that made me realize that I really needed to go to one of his events here in Europe to meet him and to see if he is as real as I see him on YouTube or Instagram.
So I saw this event that was about to take place in Bucharest, Romania called Brandminds where they planned to gather together speakers from all around the world, including Gary Vaynerchuk.
I got the ticket to the event, scheduled the flight from my city to Bucharest. Everything was ready for the event.
There were only a few days before I was about to attend what I believed was going to be an awesome conference.
But a few days before the event, I got sick. So sick that for 2 days I only stood in bed helplessly, checking my fever and taking my prescribed medication.
I thought that I will miss this conference.
BrandMinds – the conference
So Monday morning, I got up and and got ready to go to Bucharest. Even if I didn't feel so well I had this thought in my mind "if I want to go, I must go" With all the headaches and sickness I arrived at the airport, took the flight and talked with one of my friends to pick me up from the airport and drive me to the place where the conference was.
When I arrived the conference had already started and the Funky Business Guys, Kjell A. Nordström and Jonas Ridderstråle had already took the stage. They talked about a topic I was interested in: the business reinvented.
Innovation is easy to say but hard to do
And they talked about companies who had the chance to innovate but didn't understand what people actually really wanted.
After the break, Lenja Faraguna, went in front of the crowd with such positive energy and talked about the one thing that many marketers and business people don't understand: caring!
What I really loved about her is that she talked from her own experience, not from well-known examples that you can read about in books or online articles.
People will follow if they believe what you believe
I was captivated by Julian Treasure who talked about listening and audio experiences.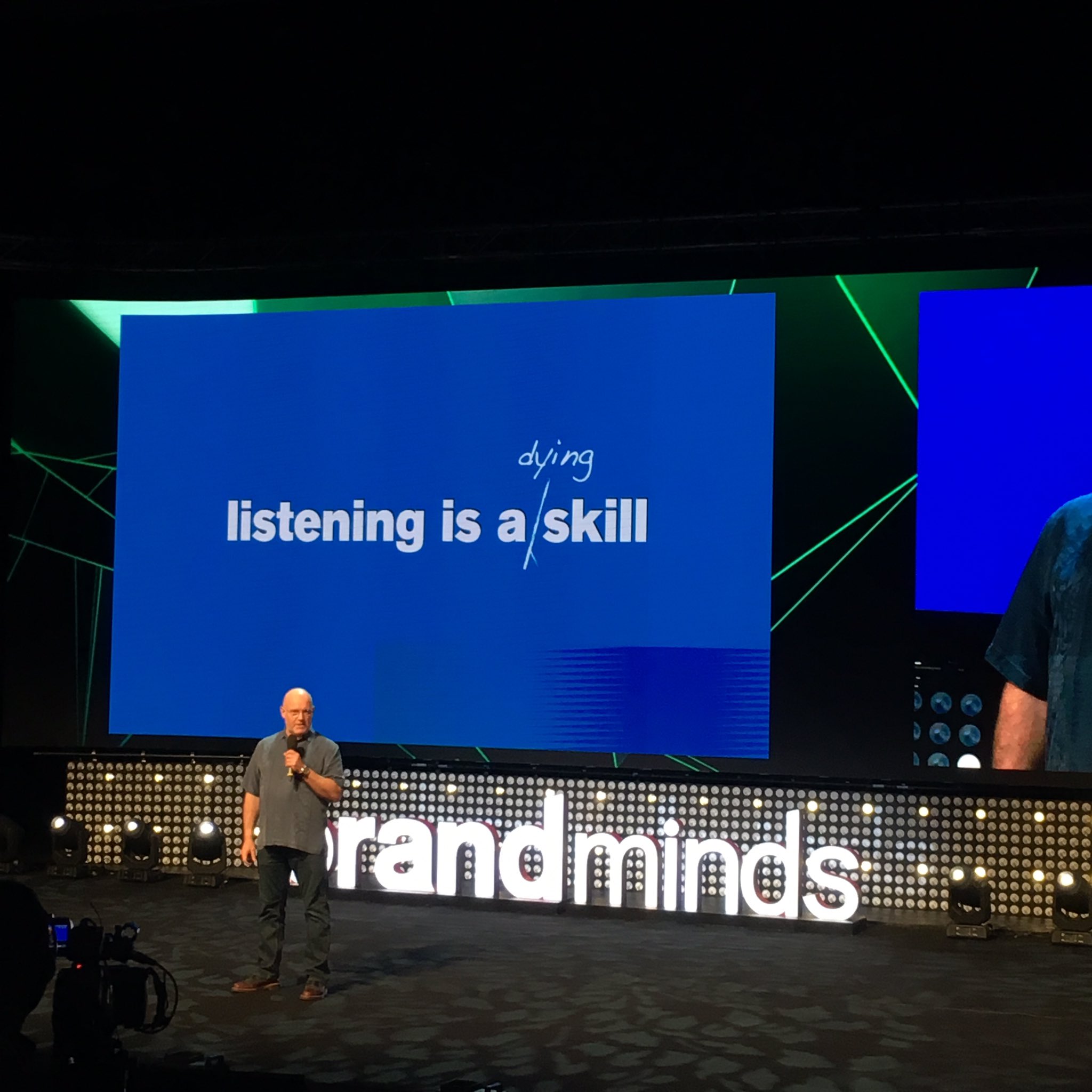 Why? Because I'm interested in starting a podcast series and I really wanted to learn more about the behavior of the people when we talk about the power of audio.
Listening totally to someone is a gift.
And Robert Murray had a wonderful inspirational speech about leadership and what this really means in today's business.
Then, the oh-so-expected-moment finally came.
I was about to  listen to Gary Vaynerchuk in person, live!
I had the chance to watch a few of his online keynotes, I listened to a few of his podcasts but never went to a conference where I could truly see what it's really happening there.
How does he act on stage? How is he interacting with the audience? Is he for real or there's just a lot of acting and editing in the end?
So Gary took the stage and was exactly as I know him. Full with positive energy and transparent.
He started his keynote by presenting himself and talking about his statement – day trading attention and building businesses.
1. The attention in the mobile world
All of our attention is predicated on what we do every day and what tools  we use to communicate. Think about your mobile phone. It's the only thing if you believe at one point that it got lost or stolen, it would freak you out! It's so important for you and you just don't want to not have it at an arm's length. This is why you take it everywhere you go. Even when you go to the bathroom.
Now think about this from a marketing perspective. If people use their mobile phones to communicate, to consume and to entertain it means that their attention is over there.
That means that marketers must use the mobile phone as a bridge between their brand and consumers, right? Exactly.
2. Instagram and Influencer Marketing
The funny thing about this topic is that many people in the crowd didn't give any chance to Instagram a few years ago. But when I saw that such a small app on which you could only upload photos and add a description was bought by Facebook for 1 billion dollars, I knew that it was a jackpot.
At the Q&A session a guy from Russia told the crowd that he used Instagram to reach a few influencers over there in order for them to promote his business. So after a few days of outreach he interacted with these influencers and paid them to promote his business. He saw a huge increase of brand awareness and sales!
And guess what was Gary's reaction to this?
"This is how you do it. This is why I'm talking about Instagram today"
3. The people are the game
I've heard many entrepreneurs and chief managers saying that a person can be replaced. But they thought about a person from a skill perspective. That means that if you don't have the right executing skill you can go.
But then Gary explained to us why for his agency the best person is not only the one who knows how to do the work but also how to take care of the team. This is why he doesn't care if you are an A person or a top level creative director with tens of awards in the industry. If you are full of crap, you are out. The crowd seemed to like and agree what he was saying.
When someone asked Gary about the team behind his work and how hard is to do that, Gary invited David Rock (@DRock – his video guy) to answer this question. And David's answer was really simple:
"Gary is a native guy. You don't have to work a lot with him on what to say or what to do. The way you see him on the screen is the way  he is in his real life. Yes, Gary is pushing us a lot to do more but in a constructive way"
But there are a lot of things to say about what Gary told us on the stage. On why creativity is a subjective topic. On why people underestimate the power of Facebook ads and also why people don't use audio to create more content.
And after the conference ended, I called my Uber and rushed to the airport to catch my flight. It was a great conference and I saw the same Gary we can all see in his Daily Vee and Ask Gary Vee Show.
And there is one simple thing that I will always remember from this conference:
Execution makes the difference.
This post is part of our contributor series. It is written and published independently of TNW.
Read next: GIPHY Gaming Roundup: 'Far Cry 5,' 'Red Dead Redemption 2,' and 'Rime!'